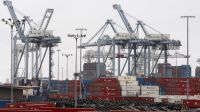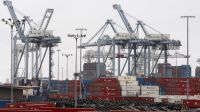 A strike in Los Angeles and Long Beach harbors has disrupted docking facilities in the US southwest state of California, causing container ships to be diverted to other ports in the country including Mexico.
According to AP quoting port officials, seven of the eight terminals at the Port of Los Angeles and three of six terminals at the Port of Long Beach were closed on Thursday.
Meanwhile on the same day, the head of Port of Los Angeles Geraldine Knatz cautioned that the three-day-old strike could inflict damage on the country's economy and also on the reputation of the nation's busiest port complex.
The strike began on Tuesday at a terminal in the Port of Los Angeles and then spread to the Port of Long Beach on Wednesday when clerical workers started the walkout.
They say that the Harbor Employers Association plans to outsource jobs.