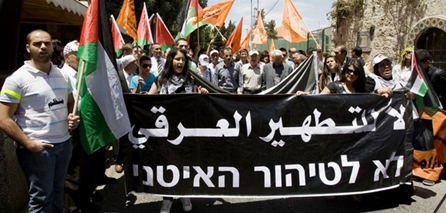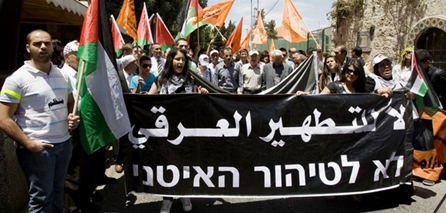 A study prepared by the Gaza Strip's Ministry of Planning confirmed an upsurge in settlement activity and Judaization carried out by the Israeli occupation authority (IOA) in occupied Jerusalem.
It highlighted that the IOA confiscated more than 23,000 of the Eastern Jerusalem's 70,000 dunum total land area, and that about 35,000 thousand housing units were developed for Israeli settlers.
It stated that what is happening inside the holy city sums up the nature of the conflict in Palestine; Occupation is based on Biblical prophesies alleging that the Jewish people are entitled to the land of Palestine, and they should get rid of the Palestinian Gentiles by any means so that the land of Palestine would be purely for the Jews.
The study made note of the more than twenty attacks against the Aqsa Mosque since 1967, ranging from destruction and demolition attempts to burning, digging tunnels, shooting and provoking worshipers.
It emphasized that the IOA imposed its sovereignty in Jerusalem by increasing the number of Jewish residents in and around the city. Jewish settlers have spread all throughout East Jerusalem by the construction of new close and densely populated neighborhoods, the study said, noting that in 1995, Israelis came to a demographic balance with the Palestinians in the eastern part of Jerusalem, which became home to 165,000 Jews compared to 170,000 Palestinians. Jerusalem's population reached approximately 746,300 at the end of 2007, 489,480 of whom were Jews, constituting 66% of the city's population, while the Arab population was approximately 256,820, accounting for 34% of the population.
Regarding the city's land area, the study showed that the area of East Jerusalem has steadily decreased since its occupation in 1967 as a result of the IOA's settlement activity policies. The city's confiscated land up until the year 1995 was approximately 14 sq km, increasing to about 23 sq km in 2009, which was used to build thousands of housing units for Israeli settlers.
A number of conclusions were made in the study, including that the Ramallah authority are responsible for past and present Judaization in Jerusalem, noting that the continued negotiation plans by the national authority suggest to the world that there is no major problem between Palestinians and Israelis, which provides Israel with a golden opportunity to completely Judaize Jerusalem within the next ten years.
It explained that Islamic positions, specifically Turkey's position, were more advanced than the official Palestinian and Arab positions, and that U.S.'s position on the issue in Jerusalem is fully consistent with Israel's position. Likewise, the UN's position on settlement activity expansion in Jerusalem is incompatible with the role of the international organization, which is supposed to foster international peace and security.
The study highlighted the need to consider the issue of Jerusalem an issue of consensus and national agreement, to mobilize all official and public efforts to support it, to deliver it from the mentality of rivalry among Palestinian factions, and to provide direct material support for Jerusalemites to strengthen their resilience and enable them to continue to build their community with independence from Israel. source PIC