Africa
World News
Sudanese protest group calls strike as transition talks stall
A leading Sudanese protest group has called for a strike as the ruling generals in the country refuse to grant a demand for the establishment of a civilian-majority transitional body.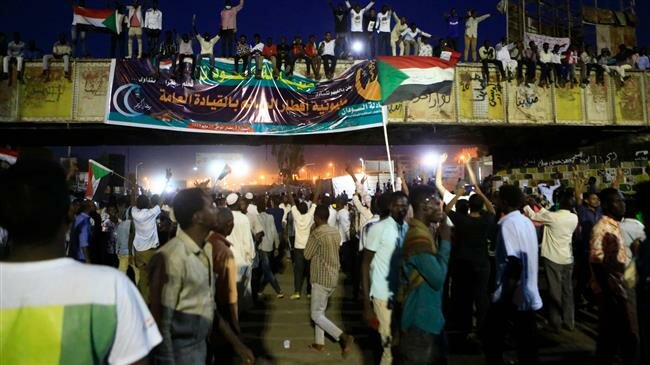 The Sudanese Professionals Association (SPA) protest group said Tuesday that after two late-night negotiation sessions with the generals in the so-called Transitional Military Council (TMC), the army was still insisting on directing the transition and keeping a military majority on the council.
Last month, Sudan's military announced that it had unseated president Omar al-Bashir and later imprisoned him. It then set up the TMC to rule the country and promised to hand over after elections.
But protests, under whose pressure Bashir was forced out, have continued in Sudan, with people demanding that more civilians be on the council than military figures during the transition period.
"Civilian power means that the structure is fully civilian with a civilian majority in all its parts," the SPA said in a statement.
It said members had to mobilize for a strike, without giving a date.
Some bankers and telecoms employees already took to the streets on Tuesday in the capital, Khartoum, calling for civilian rule.
Many medical staff members have been on strike since December 19 last year, when protests initially erupted against Bashir in the face of a government decision to triple the price of bread.
The protesters fear that a delay to negotiations would allow Bashir's allies to regroup and take power again.
The SPA and the TMC have been holding talks for several weeks. The protest group has articulated a set of demands, including a 15-member council consisting of eight civilian-appointed members and seven military-appointed members.
Sudan's junta, protest reps agree on transition periodMilitary rulers and protest leaders in Sudan reportedly reach an agreement on a three-year transition period for the transfer of power to an entirely civilian government.
The Sudanese military also issued a statement on Tuesday, admitting that the make-up of the sovereign council remained the main point of contention.
"Aware of our historical responsibility, we will work toward reaching an urgent agreement… that meets the aspirations of the Sudanese people and the goals of the glorious December revolution," it said.
Meanwhile, protesters gathered outside the military headquarters chanting slogans in support of civilian rule.
They also demanded that those responsible for the death of dozens of demonstrators since December be brought to justice.
On Tuesday, guards blocked the arrest of former intelligence chief Salah Abdallah Mohamed Saleh, known as Salah Gosh. Many Sudanese hold him responsible for the killing of demonstrators.