Africa
World News
Sudan's ruling junta warns protesters against blocking roads
Sudan's ruling Transitional Military Council (TMC) has warned protesters against blocking the roads leading to the Defense Ministry's headquarters in Khartoum, where thousands of people have been holding sit-ins for days demanding civilian rule in the African country.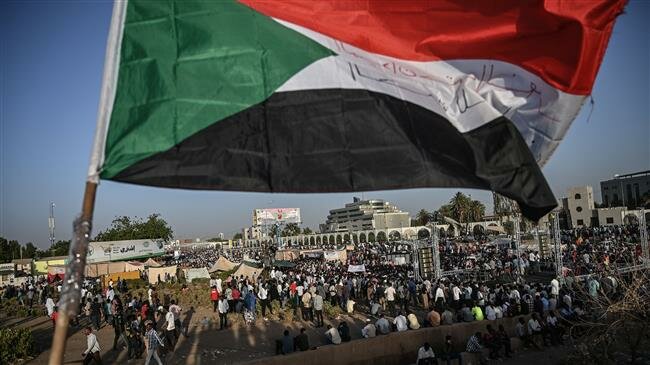 The TMC said in a statement on Monday that all the blockades placed on routes leading the army headquarters – which also hosts the presidential residence – should be removed.
"The roads have to be opened immediately to facilitate the movement of trains, and all means of transport in the capital and other states so as to help movement of essential items," the military council said in a statement.
"Young people exercising the role of the police and security services in clear violation of the laws and regulations" must stop, it further warned.
The warning came a day after Sudanese protest organizers halted negotiations with the TMC about transferring power to a civilian administration following the ouster longtime president Omar al-Bashir earlier this month.
Sudan army attempting to break up sit-in: Protest groupA Sudanese protest group calls on people to join those holding a sit-in outside the Defense Ministry compound and help them prevent an army attempt to break up the gathering.
Sudan's new military ruler, General Abdel Fattah al-Burhan, voiced dissatisfaction with the protesters setting up checkpoints and searching those who come to the sit-in.
"It can't continue like this because security is the responsibility of the state," Burhan said.
The demonstrators have, however, remained defiant, pledging not to leave the checkpoints they have erected near the roads leading to the protest site in central Khartoum.
"We will carry on manning the checkpoints as usual," 23-year-old demonstrator Kawthar Hasaballah told AFP. "No one, not even the military council, will remove us from our places."
TMC, which took over after toppling Bashir to hand power to civilians, has been making efforts to placate protesters who reject the military rule.
Protest leaders have vowed to continue organizing sit-ins and other rallies as part of a widening campaign to confront the junta rulers and push for the transfer of power to a civilian council.
Sudan junta ruler 'committed to handing power to civilians'Sudan's military ruler General Abdel Fattah al-Burhan says the transitional military council he heads is committed to transferring power to a civilian body.
Demonstrators view the ruling military council as similar to the ousted Bashir regime, who was toppled by the army on April 11 following months of demonstrations.
The protests in Sudan initially broke out on December 19, 2018, in the face of a government decision to triple the price of bread. The demonstrations quickly turned into a mass movement across the country against the ruling regime, and finally led to Bashir's ouster.
Bashir, 75, who ruled over 30 years, took power in a coup in 1989.