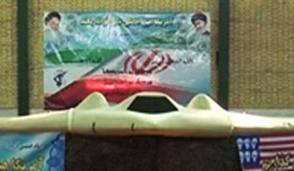 Iran has released video footage of the most advanced US reconnaissance drone which was downed by the Iranian Army in the eastern part of the Islamic Republic earlier this week.
On Sunday December 4, the Iranian Army's electronic warfare unit downed with minimum damage the US RQ-170 Sentinel stealth aircraft which was flying over the Iranian city of Kashmar, some 140 miles (225km) from the Afghan border.
The aircraft had crossed into Iran's airspace over the border with neighboring Afghanistan.
Meanwhile, Iran has announced that it intends to carry out reverse engineering on the captured RQ-170 Sentinel stealth aircraft, which is also known as the Beast of Kandahar, and is similar in design to a US Air Force B-2 stealth bomber.
On Tuesday, two US officials, speaking on condition of anonymity, confirmed that the drone had been part of a CIA reconnaissance mission, involving the United State's intelligence community stationed in Afghanistan.
They claimed the reconnaissance capability of the RQ-170 Sentinel drone enabled it to gather information from inside Iran by flying along Afghanistan's border with the Islamic Republic.
The RQ-170 is designed and developed by the American company, Lockheed Martin.
A commander of the Islamic Revolution Guards Corps (IRGC) said on Thursday that the aircraft, equipped with highly advanced surveillance systems, electronic communication, and radar systems, had fallen into the trap of Iran's armed forces.
Iran has said that the US drone spy mission was a "hostile act", adding that it will complain to the United Nations over the violation of its air sovereignty by the intelligence gathering aircraft.
Iran's Foreign Ministry has also summoned the Swiss ambassador to Tehran to protest the recent violation of the Islamic Republic's airspace by the US spy drone.
The United States has admitted that the unmanned stealth drone was part of a surveillance program for the Central Intelligence Agency (CIA).