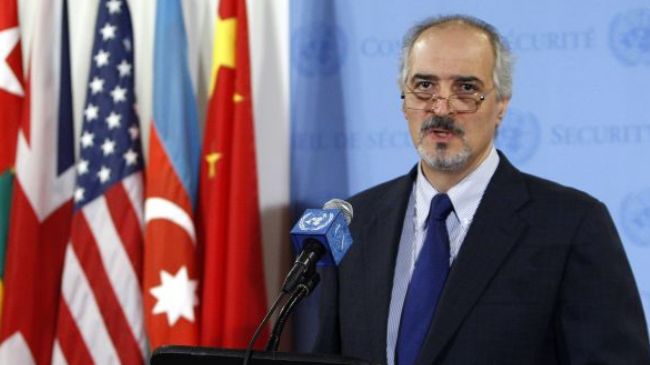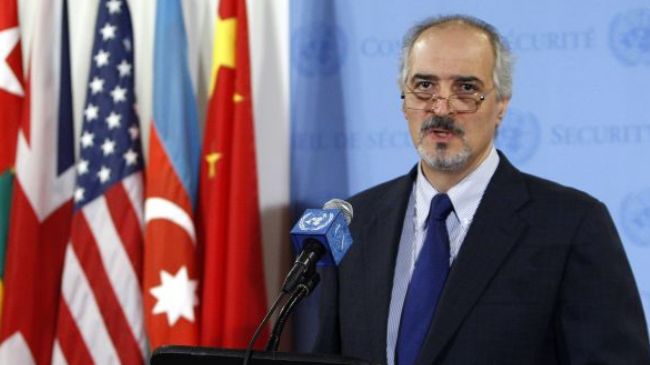 Syria's Ambassador to the United Nations Bashar al-Jaafari has rejected allegations of chemical weapons use by the government and accused foreign-backed militants of using banned arms to persuade foreign powers to attack the Arab country.
"Many facts tend to prove the innocence of the Syrian government, which has been subject to false accusations," al-Jaafari said on Wednesday.
Jaafari also said that such facts approve that "armed groups have used chemical weapons in order to bring about military intervention and aggression against Syria."
The West and Turkey "have enabled terrorist groups to create a laboratory for chemical weapons on Turkish territory with materials provided by Turkey, Saudi Arabia and Qatar… and to bring these chemical weapons to Syria for use," he said.
Al-Jaafari's remarks come after the rhetoric of war against Syria gains momentum.
On August 21, the militants operating inside Syria and the foreign-backed Syrian opposition claimed that 1,300 people had been killed in a government chemical attack on militant strongholds in the Damascus suburbs of Ain Tarma, Zamalka and Jobar.
A number of Western countries, including the US, France, and the UK, were quick to adopt the rhetoric of war against Syria despite the fact that Damascus has categorically rejected the baseless claim, and announced later that the chemical attack had actually been carried out by the militants themselves as a false flag operation.
Iran, Russia and China, among other countries, have warned against foreign military intervention in Syria, which has been gripped by deadly unrest since 2011.
A very large number of the militants operating inside Syria are reportedly foreign nationals.
The United Nations says more than 100,000 people have been killed and many more displaced since the outbreak of the violence.