Syria
Syria Strengthening Security Belt around Damascus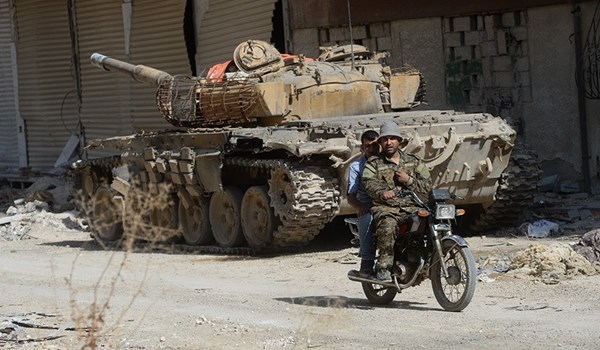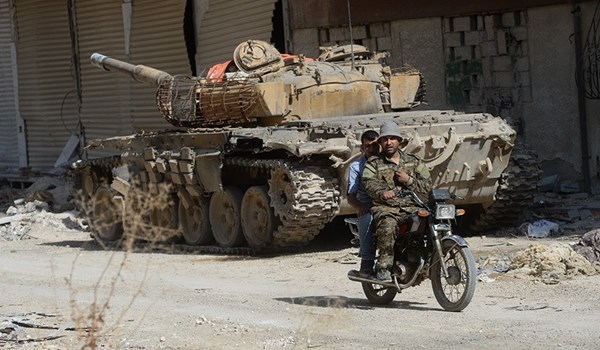 The Syrian Army troops is resolved to accomplish stretching a security ring around the capital, Damascus, by forcing terrorists out of Eastern Ghouta, well-placed military sources said.
The sources said that the army is planning to take back the town of al-Qaboun to cut it off from the Barzeh region to reinvigorate security of Damascus city and its outskirts.
The source underlined that the army's control over al-Qaboun region has blocked terrorists' movements between al-Qaboun and Barzeh, tightening noose on terrorists in Jobar districts in the Eastern outskirts of Damascus.
He further added that security has been restored to several regions adjacent to al-Qaboun region, including al-Abbaseen and al-Tejarah that were previously being targeted by terrorists repeatedly.
The source went on to say that al-Qaboun is full of tunnel networks that connect the region to Jobar, Harasta, and Barzeh, giving terrorists a merit for transferring forces and equipment.
Yet he underlined that the army is experienced enough to foil terrorists' plans in the fight against the terrorists using these tunnels.
Informed sources said on Monday that the Al-Nusra Front (also known as Fatah al-Sham Front) has issued distress calls to urge their peers to rush to their aid as they were being crushed by the Syrian army and popular forces in Eastern Ghouta.
The sources said that the army soldiers had been advancing against the Al-Nusra from the two directions of the Northeast and the Northwest towards al-Qaboun region, taking control of several positions in al-Qaboun farms.
In the meantime, the army's artillery and missile units targeted terrorists' movements and gatherings in the towns of Harasta, Douma, al-Nashbiyeh and Harazma in al-Marj region in Eastern Ghouta, killing and wounding a number of terrorists, the sources said.
They added that the army's missile units targeted a main command post of Al-Nusra along the road to the town of Harasta, destroying the post and killing or wounding tens of terrorists.
Other sources reported that terrorists deployed in Jobar, East of the capital, carried out attacks on the Syrian Army to reduce the army men's pressure on their comrades in al-Qaboun.
The sources added that the terrorists' attacks on government forces' positions in Jobar were repelled by the Syrian soldiers.