Syria
Middle East
North America
Turkey
Syria will continue fight against terrorism, work to end foreign occupation: Mikdad
Syrian Foreign Minister Faisal Mekdad has lashed out at the United States and Turkey for occupying territories in the Arab country, calling on Washington and Ankara to withdraw their forces and stop "plundering" the country's wealth.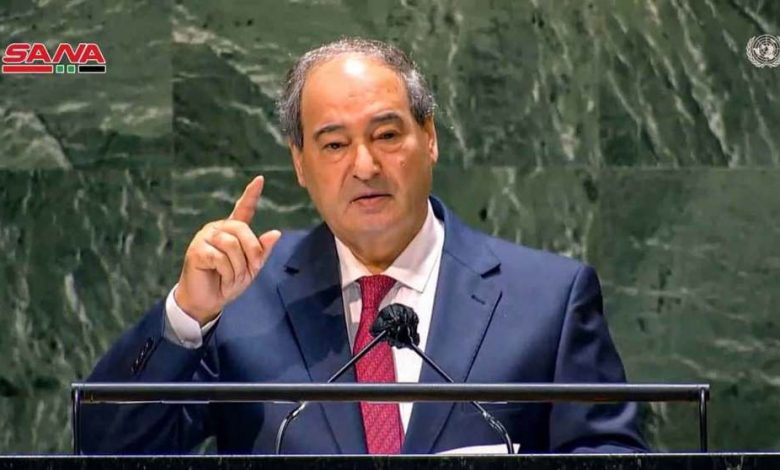 In his speech to the United Nations General Assembly on Monday, Mikdad said Syria's campaign against terrorism will continue until the entire Syrian territories are purged of the menace, emphasizing no external aggression or pressure will deter it.
"History will record the fact that the Syrian nation not only defended their homeland and civilization in their struggle against terrorism, but also the whole international community," the senior Syrian diplomat said.
Mikdad noted that the Damascus government is working to end the foreign occupation of its territories by all means guaranteed in international law.
The Syrian foreign minister also condemned oppressive economic sanctions imposed against his country and other states like Cuba, Iran, Venezuela and Yemen, stating that the bans negatively impact human rights, kill people and deprive them of their basic rights to health, food and life.
"It is no secret to anyone that Syria was among the countries most affected by terrorist attacks sponsored militarily, financially, and logistically by states known for their support of terror. Acts of terrorism have resulted in the murder of innocent people, insecurity, destruction of essential infrastructure, plunder of national resources and caused humanitarian crises in a country that was proud of its achievements. Syria recorded economic growth of more than 9.5 percent in the year 2010 prior to the outbreak of the crisis.

"Thanks to the sacrifices and heroism of our people and armed forces, and assistance of our friends and allies, we have scored exceptional gains in the campaign to confront and eliminate terrorism," Mikdad said.
He went on to say that the Turkish government continues to support terrorism in Idlib, turning the northwestern Syrian province into a sanctuary for foreign terrorists.
Mikdad pointed out that various war crimes and crimes against humanity, such as forced displacement, assaults on locals, and collective punishment of people by deliberately and repeatedly cutting off water to more than a million citizens of Hasakah city, have been committed by Turkish troops and their allied militants.
He lambasted the deployment of foreign troops on Syrian soil without the consent of the Damascus government as illegal and a gross violation of the international law, the Charter of the United Nations and all Security Council resolutions that demand respect for Syria's sovereignty, independence, unity and territorial integrity.
"Therefore, the occupation of Syrian territories by Turkish and American forces under false pretexts, and their theft of Syrians' wealth must end immediately and unconditionally. Syria will work determinedly and persistently to end such occupation, and will utilize all means guaranteed in the international law to this end," Mikdad said.
The US military has stationed forces and equipment in eastern and northeastern Syria, with the Pentagon claiming that the deployment is aimed at preventing the oilfields in the area from falling into the hands of Daesh terrorists.
Damascus, however, says the unlawful deployment is meant to plunder the country's resources.
Former US president Donald Trump admitted on several occasions that American forces were in Syria for its oil.
After failing to oust the Syrian government through proxies and direct involvement in the conflict, the US government has now stepped up its economic war on the Arab country.
This comes as Turkey has also deployed forces in Syria in violation of the Arab country's territorial integrity.
Ankara-backed militants were deployed to northeastern Syria in October 2019 after Turkish military forces launched a long-threatened cross-border invasion in a declared attempt to push fighters of the Kurdish People's Protection Units (YPG) away from border areas.
Ankara views the US-backed YPG as a terrorist organization tied to the homegrown Kurdistan Workers' Party (PKK), which has been seeking an autonomous Kurdish region in Turkey since 1984.
The Kurdish-led administration in northeastern Syria says the Turkish offensive has killed hundreds of civilians, including dozens of children since it started.
Turkey has played a major role in supporting terrorists in Syria ever since a major foreign-backed insurgency overtook the country more than ten years ago.
Syrian President Bashar al-Assad and other senior officials have said the Damascus government will respond through all legitimate means available to the ongoing ground offensive by Turkish forces and allied Takfiri militants in the northern part of the war-battered Arab country.