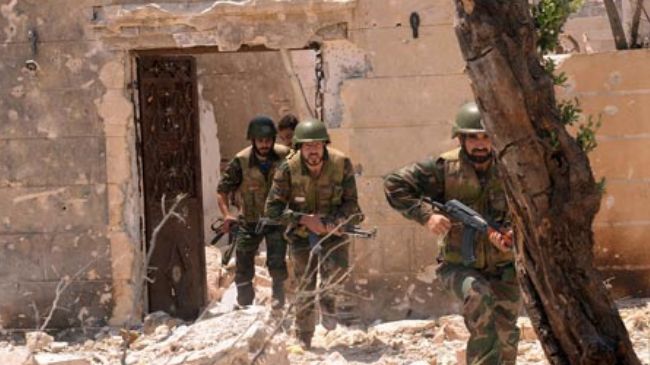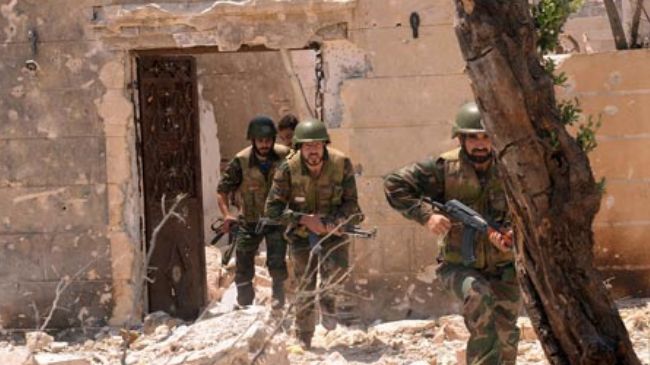 The Syrian army has carried out large-scale military operations against foreign-backed terrorist groups in several areas across the violence-stricken country.
Syrian army forces managed to kill many Takfiri militants in the suburbs of the country's northwestern city of Idlib, destroying their weapons and ammunition, Syria's official news agency SANA reported on Thursday.
Meanwhile, a number of extremist militants were killed in the countryside of Aleppo in northwestern Syria. Army units also destroyed terrorist hideouts in the area.
The Syrian forces launched similar mop-up operations in the cities of Dara'a, Homs and Dayr al-Zawr.
According to the report, scores of foreign-backed militants, including Saudi and Tunisian nationals, were killed in the army operations in the eastern city of Dayr al-Zawr.
Army sources also said a large number of heavy weapons had been seized from militant hideouts during the offensives.
Meanwhile, mortar attacks injured more than a dozen civilians in residential areas in the capital, Damascus. The Syrian government says the mortar shells were fired by the terrorist groups operating in the country.
Over the past months, the Syrian army has carried out successful clean-up operations across the country, inflicting heavy losses on the Takfiri militants.
Syria has been gripped by a deadly crisis since March 2011. The foreign-sponsored crisis has so far killed tens of thousands of people and displaced millions of others in the Arab country.
In May 2013, Syrian President Bashar al-Assad said militants from as many as 29 different countries were fighting against the government in different parts of the country. The Syrian leader has also vowed that his country will strike terror with an "iron fist."