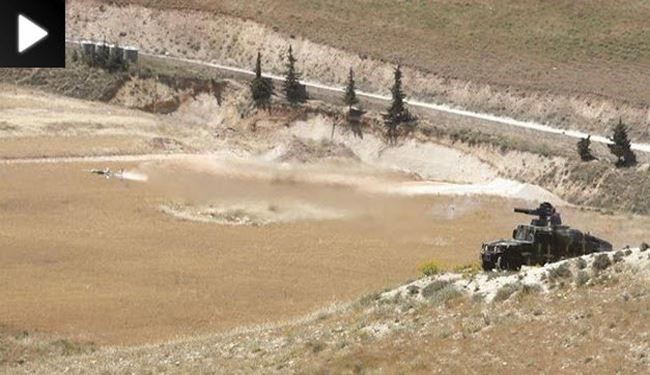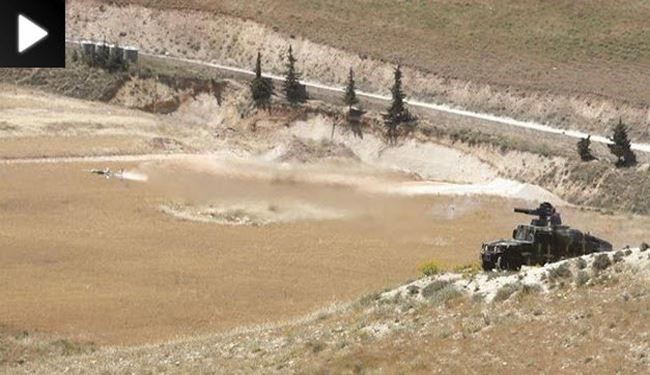 The Syrian army troops and the Lebanese Hezbollah resistance movement captured a strategic area in the Qalamoun mountainous region along the two countries' border, Al-Alam TV reports. According to Al-Alam News Network, the joint forces of the Syrian army and Hezbollah fighters made significant advance in Jarajir barrens in Qalamoun, and seized control of the so-called Blocksat heights.
The area was cleared of the Al-Qaeda-linked al-Nusra Front, which has been operating in the Qalamoun region.
Blocksat heights is an area of 20 square kilometers that lies on an altitude of 2,400 meters and overlooks Qara barrens, South of al-Jarajir barrens, and the outskirts of Lebanon's Northeastern border town of Arsal.
During the operation in the area, scores of terrorists of al-Nusra Front were killed. The joint forces also destroyed three vehicles, equipped with machine guns, and a bulldozer of the terrorist group. Scores of the terrorists also escaped the battlefield.
Shi'bet al-Tamseh, Shi'bet Wadi al-Ahmar, and Qirnet Wadi al-Ahmar in Jarajir barrens, and Raas al-Koush and the front part of Wadi al-Qadoumi in the mountainous Qalamoun area were among other regions taken by the Syrian and Hezbollah forces.
The resistance movement managed to kill at least 50 terrorists in a series of fierce clashes in the areas. At least 80 other Takfiri terrorists were injured in the clashes.
Hezbollah fighters together with Syrian army units have recently managed to seize control of several strategic hilltops and crossings in the border areas between Lebanon and Syria especially in the Qalamoun region.