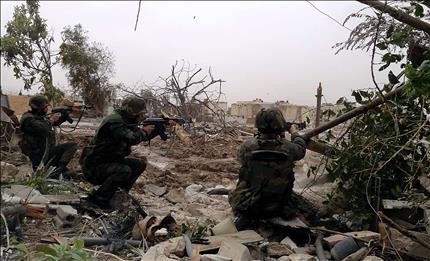 The Syrian Army continued to smash terrorist groups' dens and gatherings in intensified operations carried out across the country during which large number of terrorists were eliminated, including group's leaders Syria Armyand foreigners.
In Damascus Countryside, an army unit destroyed an armed terrorist group's den that contained an amount of weapons and ammunition in Alieh farms in Douma area.
A number of the terrorists, some of them are of Arab nationalities, were killed in the operation, including Sami Abdullah Ahmad from Somalia.
Another army unit ambushed members of an armed terrorist group in the eastern mountains in al-Zabadani city, killing many of them.
Units of the armed forces killed a number of terrorists, injured others in the village of al-Wadi in Rabi'a, in Lattakia countryside and destroyed terrorists' cars loaded with rockets, RPG launchers, machineguns.
Another army unit killed 12 terrorists and injured others in the village of Zahiyeh.
18 terrorists were eliminated, others were injured and a car loaded with launchers, 3 cars equipped with heavy machineguns were also destroyed in al-Aliya village.
Units of the armed forces killed and injured a number of terrorists in the villages of Tirtiyah and Eyen al-Samour.
46 terrorists, among them a Saudi connection colonel named Abu Daifallah al-Saudi and a French and two British terrorists, were killed.
A military source said that all members of armed terrorist groups who were looting and attacking the citizens in al-Dbait street, the vegetables souk in al-Ashrafiyeh neighborhood, Salah-Eddin and Bustan al-Kasser neighborhoods and the old city of Aleppo, were eliminated and injured.
An army unit confronted an armed terrorist groups' attempt to attack al-Kindi Hospital and foiled terrorists' attempts to detonate two cars bomb in the area surrounding the hospital, killing and injuring scores of them.