Middle East
Syria
Syrian Army Liberates 4 Regions in Northern Hama
The Syrian army captured villages in four regions in Northwestern Hama on Tuesday during its major offensive against Tahrir al-Sham al-Hay'at (the Levant Liberation Board or the Al-Nusra Front) terrorists in the region.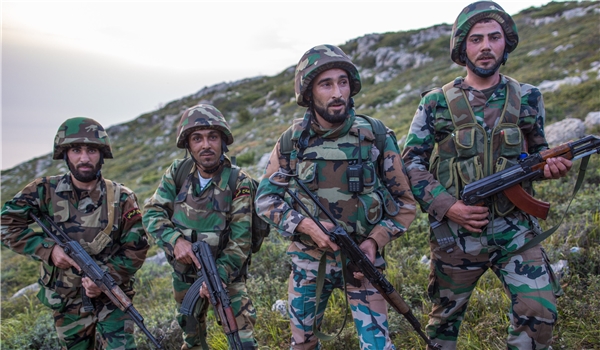 The Arabic-language al-Watan newspaper reported that the Syrian army operations continue in Northwestern Hama, adding that army forces have advanced in several fronts.
It added that the villages of al-Qayroutiyeh, Qirateh, al-Hamirat and al-Hardaneh have been set free by the army from militants' control, noting that heavy clashes are underway between the Syrian army forces and Tahrir al-Sham terrorists in Northwestern Hama.
Relevant reports from Hama said late last week that the terrorist groups prevented civilians from leaving areas under their control in Idlib to regions controlled by the Syrian army in Northern Hama as government forces continued advances in the region.
The Syrian Army troops engaged in fierce clashes with the terrorists of Tahrir al-Sham and the National Liberation Front (NLF) who had attacked the government forces' military positions in al-Karkat and al-Hawiz in Northern Hama last Saturday.
The Syrian army foiled the terrorists' attacks after killing a large number of them and destroying several of their military vehicles, including bomb-laden cars.
Meantime, the Arabic-language website of Russian Sputnik News Agency reported that Tahrir al-Sham, Harrasudin and Ajnad al-Qafqaz have blocked the roads leading to Khan Sheikhoun in Southern Idlib and Mourek in Northern Hama as well as the Western section of Abu al-Dhohour crossing.
The Arabic-language service of Russia Today also reported that hundreds of Syrian families gathered near the corridors declared by the Syrian government in Hama and Idlib, and demanded exit from areas under control of terrorists which faced terrorist groups' opposition.
Meantime, a member of the National Peace Committee in Syria Omar Rahmoun also reiterated that the terrorists blocked civilians' move through confiscating their assets, arresting and torturing them.
The terrorist groups also launched rocket attacks on the town of Qamhaneh in Northern Hama.