Featured
Syrian Army Seizes Israeli-Made Missiles from Militant Groups in Daraa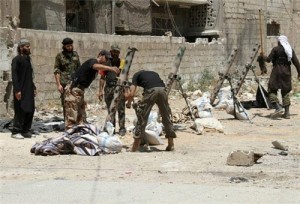 Syrian army units inflicted heavy casualties on militants in Daraa province and seized their Israeli-made missiles, machineguns, rifles and communication devices.
A military source said that an army unit clashed with militants in the city of Daraa, killing many militants including Muhannad Jassem al-Aqiri and Khaldoun al-Aqiri, while another unit confronted an armed militant group that attempted to infiltrate into al-Khazzan area in al-Herak town, killing or injuring all of its members.
The source added that Israeli-made missiles, machineguns and communication devices were confiscated, and members of an armed militant group that attempted to attack army checkpoints in Nawa, Tal al-Jabiyeh and al-Nasseriyeh in the Eastern side of Daraa countryside were eliminated.
The bodies of the terrorists Abbas Mahmoud al-Rashdan the leader of the so-called 'al-Mujahideen Battalion' terrorist group, Adham Hassan Qassem, Wassin Mohammad al-Rahhal, Omar Mohammad Ali al-Wadi, Farhan Mohammad al-Eid and Ail Hikmat al-Faawouri were identified among the dead.
The source pointed out that army units killed many militants in Atman, al-Mleha al-Sharqiyeh and Taffas including the militants Hamza Hwiedi, Hamza Ramadan al-Abdullah and Molhsm al-Shahadat.
Terrorists killed, weapon hideouts destroyed in Lattakia countryside
In Lattakia, army units destroyed a thermal missile hideout and two weapons and ammunition caches, as they eliminated terrorist groups in Lattakia Countryside, according to a military source.
The source clarified that the bodies of the terrorists Imad-Eddin al-Jolani, one of al-Nusra Front leaders and a leader in Al-Qaeda-linked 'Islamic State of Iraq and al-Sham', Abu Ahmad al-Iraqi, were identified among the dead.