Syria
Syrian Army smashes terrorists'gatherings in several areas around country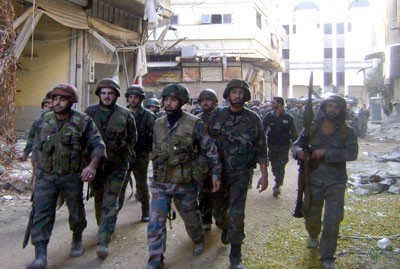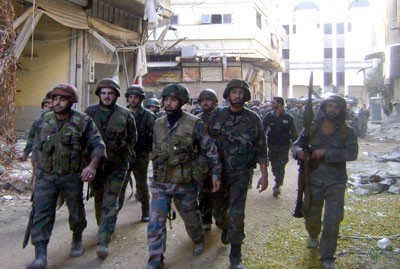 Army units on Tuesday directed smashing blows to terrorists in several areas around the country, as dozens were killed and many others injured.
Many terrorists killed in operations in Damascus and its countryside
Army units carried out a series of operations in several areas in Damascus city and its countryside during which they killed numbers of terrorists and razed several of their dens.
SANA reporter quoted sources as saying that 7 terrorists from the so-called "The Islamic Front" were killed near al-Matahen (mills) building in Adra al-Balad as they were trying to infiltrate the residential city of Adra.
A unit of the armed forces razed a den with terrorists inside it in Alieh farms in Douma city, while another unit killed a number of terrorists in al-Rihan town.
Saeed Ramadan, one of the leaders within the so-called "Zou al-Nourain Battalions" was identified among the dead.
The sources told SANA reporter that a car loaded with weapons and ammunition was destroyed in Harasta city, with all terrorists inside it killed.
In the southern countryside, a unit of the armed forces destroyed a gathering for terrorists affiliated to Jabhat al-Nusra in Yelda town, killing many of the terrorists, while another unit clashed with terrorist groups in Daraya city and killed and injured numbers of their members, in addition to destroying their weapons.
Meanwhile, an army unit clashed with an armed terrorist group in the surrounding of al-Omari Mosque in al-Qaboun neighborhood in the city of Damascus, leaving most of its members dead and wounded.
Terrorist attack claims the life of one citizen, injures three others in Harasta area
A citizen was killed and 3 others were injured by terrorist attack on Harasta area in Damascus Countryside.
A source at the Police Command told SANA that a citizen was killed by a sniper bullets in front of the Water Resources building in Harasta.
The source added that 4 mortar shells fired by terrorists landed on B3 Island in Harasta Suburb, causing the injury of 3 citizens and material damage to a building and a number of cars.
Army units kill terrorists in Idleb countryside
Units of the armed forces carried out operations against terrorists' dens and gatherings in Idleb countryside, killing and injuring scores of them.
A military source told SANA that the army units killed 46 terrorists near Qastoun al-Sharqiyeh in Jsir al-Shoghour and near Maar Tamsarein in Idleb countryside.
Among the dead terrorists were Khaldon al-Basha from Iraq, Jaber al-Atta and Mohammad al-Baishaq from Saudi Arabia, Haitham al-Kang, Emad al-Shaab, Ziad Misken, Ahmad Ra'aisi and Naiyef Badleh.
The source added that another army unit targeted a terrorist gathering near al-Badriyeh village, killing scores of them and injuring others.
Armed groups eliminated in Aleppo
Army units killed many terrorists in a series of operations against their dens and gatherings in several villages and towns in Aleppo and foiled an armed terrorist group's attempt of attacking the residents of old city.
A military source said that army units destroyed terrorists' gatherings with all weapons and ammunition inside in al-Haydariyeh, Tallet al-Ghali, Kafarnaha and al-Khafseh in the eastern countryside, in addition to other dens in Arom, Ainjara, Shantara, Daret Ezza, Jabal Barakat and Khan Shahoud.
The source added that many terrorists were killed in the villages and towns of kweiris, Kaskees, Jdeidieh, the surrounding area of Aleppo central prison, al-MAnsoura, al-Rashideen, maaret al-Artiq, Khan al-Asal and Helan, destroying their weapons and ammunition.
The source pointed out that an army unit foiled an armed terrorist group's infiltration attempt in Aleppo old city into the surrounding safe areas to attack the citizens, as all the group's members were killed.
Scores of terrorists were killed in accurate operations against their dens in the neighborhood of Karm Myasar, Qadi Askar and al-Saleheen in Aleppo city.
Army destroys terrorists' gatherings in Homs
A military source told SANA that the army units targeted and destroyed terrorists' gatherings in the areas of al-Wa'er, al-Dara al-Kabera, al-Ghasibyeh, al-Qarqabees and al-Khaldyeh.
The source added that the army also clashed with terrorists in the areas of Jub al-Jarrah, Salam Gharbi, Salam Sharqi and al-Sultanyeh, killing a number of terrorists and destroying their weapons-loaded vehicles.
Meanwhile, terrorists targeted with 11 mortar shells and rockets the town of Abu al-Alaya, causing material damage only.
The terrorist groups also targeted with mortar shells the town of al-Mishrfeh, causing only material damage to the private properties in the area.
Army destroys terrorists' vehicles, weapons in Daraa
The army units continued operations against the armed terrorists groups in many areas in Daraa, killing scores of terrorists and destroying their weaponry and equipment.
A military source told SANA reporter that the army targeted terrorists' vehicles loaded with weapons and ammunition in the areas of Hazqeen and Aba Zaid, and killed a number of terrorists.