Syria
Syrian Authorities Free Citizens, Eliminate US, Israel-backed Terrorists in Several Areas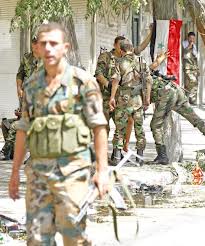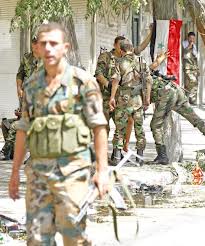 A unit of the Armed Forces targeted a terrorists' gathering in Sahl al-Rouj in Idleb countryside, killing scores of terrorists and destroying two vehicles equipped with machineguns.
Abdul-Razzaq Abboud, was among the terrorists killed, a source in the province told SANA reporter.
Another army unit clashed with an armed terrorists group that tried to attack a military checkpoint in Idleb countryside and arrested 12 terrorists.
Authorities Free Four Citizens Kidnapped by terrorists in Homs
In cooperation with the residents, authorities freed 4 citizens who were kidnapped earlier by an armed terrorist group in Homs.
An official source told SANA that the citizens are Hassan Mohammad Shibli, Ahmad Omar Iss, Ahmad Iyad Abdul-Razzaq Majmij and Mohammad Shaysh al-Abdullah.
Army Eliminate Terrorist in Hama
Terrorist on Tuesday targeted a car on the highway near Morek town in Hama.
A source in the province told SANA reporter that a man, his wife and two children were in the car, adding that the whole family was martyred.
On Hama-Idleb highway, an army unit clashed with an armed terrorist group, killing and wounding large numbers of the terrorists.