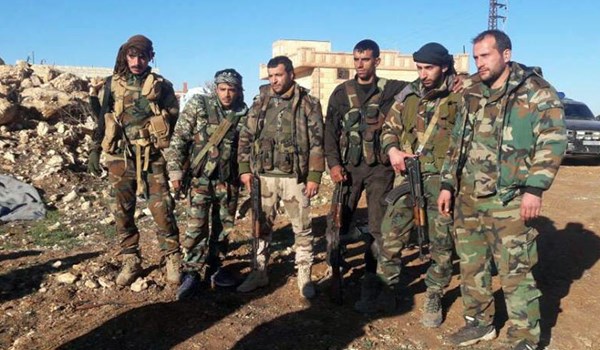 A prominent Syrian army strategist underlined that completion of military operations in Hama is a prelude to the epoch-making battle in Idlib province, saying that Ankara has retreated its forces from all its monitoring posts in militant-held territories in Northwestern Syria.
Ala al-Asfari told the Arabic-language service of Sputnik news agency on Monday that the Syrian army will accomplish its military operation in Hama after breaking the terrorists' last defense lines in the Northern parts of the province.
He added that the Syrian army's battle in Hama is a prelude to the full-scale operations in Idlib, noting that clashes between the Syrian army and Ankara are unlikely since Russia is rendering strategic support for the Damascus army's offensive on the occupied regions in Idlib.
Al-Asfari said given the Syrian and Russian armies firm decision to cleanse the regions occupied by terrorists, Ankara has withdrawn from all its observation posts in militant-held regions in Northern Syria.
His remarks came after the Syrian army expanded its rule to the borders of Idlib province after advancing in Northwestern Hama and regaining control over several towns and villages.
The Syrian army troops backed by artillery units and air force engaged in clashes with the terrorists North of Qala al-Maziq in Northwestern Hama, taking control of the towns of Bab al-Taqa, al-Sharia, al-Arimeh and al-Jamazieh.
The Syrian Army troops also managed to take control of the towns of Meidan Ghazal and al-Mostariheh in Jabal Shahshabou axis.
A military source pointed to deployment of the Syrian Army's units in al-Sharia town, and said that the Syrian Army troops arrived in Southern borders of Idlib province after making recent advances.
Meantime, the Syrian Army's artillery and missile units also pounded the military positions and movements of Tahrir al-Sham al-Hay'at (the Levant Liberation Board or the Al-Nusra Front) in the towns of Heish, Kafar Sajneh and Hass in Northern Hama and Southern Idlib and destroyed several key centers and military positions of terrorists from where they launched attacks on the safe zone and killed a number of terrorists.