Syrian Information Minister: Syria is Moving Towards Overcoming Crisis and Defeating Aggression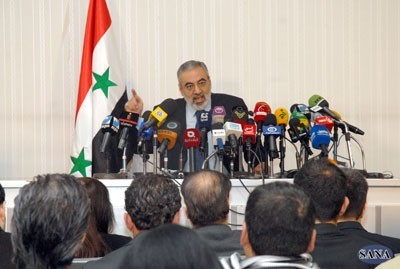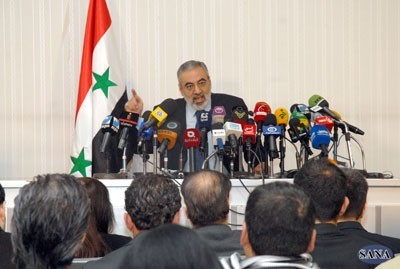 Information Minister Omran al-Zoubi affirmed that Syria as a country, state and people is moving towards overcoming the crisis and defeating the aggressions against it, stressing that most of what is being said in the unprecedented media escalation campaign against Syria is baseless and untrue.
In an open meeting with representatives and correspondents of Arab and foreign mass media and news agencies accredited in Syria on Sunday, al-Zoubi said that Syria will be victorious over its enemies, noting that the national scene in Syria is witnessing considerable political activity among national forces, hoping that this will be productive and positive.
He pointed out that there are terrorist groups and armed gangs that fall under the banner of Jabhet an-Nusra and its affiliates, all of them being a part of Al Qaeda and are trained and prepared by well-known sides that financed, instigated, established training camps, and put various tools at the service of terrorists.
Al-Zoubi said that Russia's position towards Syria is firm and based on a series of rules including respecting Syria's sovereignty, and that Russia isn't talking about anyone leaving or ballots; rather it works to reach a political solution through dialogue and a purely-Syrian democratic and national political process.
He stressed that Russia's position hasn't changed, and any bets on such a change are mere dreams.
Al-Zoubi affirmed that neither Russia nor any one put pressure on Syria and the Syrian political resolution regarding all political matters is a pure sovereign decision.
Regarding the plan of UN Envoy to Syria Lakhdar Ibrahimi which is a modified version of the Geneva statement which stipulates for a transitional government approved by the government and the opposition, the Minister said that judgment shouldn't be passed on the results of his visit in advance, pointing out that there are some questions the Syrian government raised about the statement and are awaiting clarification.
Al-Zoubi added that national dialogue is a dialogue among the Syrians and with those who believe in dialogue as a prelude to a political process, while those who rejected dialogue and called for taking up arms are in fact afraid of the results of this dialogue.
He stressed that if the Doha coalition or any other such group were brave to enter an open political process without elimination and if they had confidence in possessing a share of the ballots, then they wouldn't have refrained from dialogue.
The Minister said that the Syrians who throw down their weapons and put themselves at the disposal of the law will be treated in a specific way because they're Syrians, while the foreign gunmen and those belonging to Jabhet al-Nusra and its other Al Qaeda affiliates and those who committed acts leading to the death of Syrians or the destruction of infrastructure will be punished according to the laws if arrested.
Al-Zoubi went on to stress that the Syrian Arab Army will continue to confront these terrorists across the country as per its constitutional, national and political authorities, and that the Syrians support it in the fight against terrorism, adding that is no such thing as positive or negative, acceptable of unacceptable terrorism, and whoever commits a terrorist act is a terrorist, regardless of his nationality, identity, religions, sect or party affiliation.
He stressed that the Syrian Arab Army is not a side in the confrontation; rather it represents the homeland and people and is confronting terrorism as per the international laws and resolution issued after 9/11, according to which certain governments and figures in neighboring countries should be held accountable by the Security Council according to Resolution No. 1373 which considers anyone who finances, conspires, facilitates or harbors terrorists subject to counter-terrorism laws.
On the government's position towards the opposition that doesn't call for forign military intervention, al-Zoubi said that the minimum of patriotism requires the rejection of foreign military intervention, with the maximum being the martyrs who are sacrificing their lives, stressing that patriotism demands rejecting outside dictations and all forms of interference, and denouncing terrorism.
The Minister said that the Syrian identity is a whole that cannot be claimed by anyone as being their exclusive property then ask to be made a hero and a political leader, adding that those who reject foreign intervention must tell the Arab League which they meet to lift the sanctions imposed on Syrians and tell Qatar, Turkey, France and others to cease sending weapons and stop training terrorists and smuggle them into Syria.
He stressed that while some guests may attend national dialogue as ambassadors, but the dialogue itself will be among Syrians only, reiterating that all decisions will be made by the Syrians themselves and that no-one will be allowed to interfere in it, but if they have ideas or suggestions then they're welcome to propose them.
Al-Zoubi addressed those the government and political forces and government that reject dialogue, telling them that time is growing short and that they should move to political action and forget about military action and dreams of toppling the government, the abdication of the president, and occupying the capital and any such talk, adding that those who promote such ideas are misleading.
Regarding the Iranian proposition to resolve the crisis, the Minister said that all Syria's friends be they Iranians, Russians or Chinese – have a right and a duty to present suggestions and initiatives, and that their positions towards Syria are most welcome.
On claims by some opposition groups and media sources that gunmen seized large areas, al-Zoubi said that the terrorists and Jabhet al-Nusra operate using guerilla tactics and cannot hold on to any location they attack, so any talks of controlling areas is untrue, adding that if such claims were true, why don't the Istanbul council or the Doha coalition come and establish their projects in the areas they claim to control?
He cited an alleged attack by terrorists on a regiment in Yabroud which actually targeted an empty location used in summer, while another regiment which they claimed to attack in Shebaa in Damascus countryside was just a military point measuring 200 square meters which they attacked for around two hours and is now under the military's control, which shows that the media victories they claim are illusory.
Al-Zoubi stressed that the Syrian Arab Army is there to fight terrorists who attack electricity networks and cause blackouts, and those who target hospitals, schools, fuel supplies and agricultural and industrial facilities and rob them, smuggling the stolen materials to Turkey where they sell them under the watch of the Turkish customs, affirming that these people cannot provide electricity, medicine, what or schools for people.
On the statements of Vice-President Farouq al-Shara, the Minister said that the Vice President is one of 23 million Syrians who has his own personal opinion, stressing that Syria is a state that is ruled by institutions and leaderships which have the final say.
He explained that when the Syrian Arab Army defends the country, it doesn't think about a final military resolution nor the scope of sacrifices or the consequences of the battle, adding that a resolution in a battle is eventually dictated by the battle circumstances, and that the armed opposition and Jabhet al-Nusra should realize that their victories are delusions, adding that the political leadership in Syria was first to propose a political solution through national dialogue since day one, and took several steps to this end but some chose to bear arms despite that.
Regarding the proposed scenario for emerging from the crisis and if they're a possible timetable, al-Zoubi stressed the need to use accurate terms, and that there are no timetables as matters haven't entered the stage of political steps, but work is ongoing. On whether the appointment of John Kerry as State Secretary will herald a new stage in Syrian-US relations, the al-Zoubi said it's not a concern for the government who is appointed in the US, but rather the US policies, adding that we should wait and see how the administration will act and whether the US will commit to its decision to designate Jabhat al-Nusra as a terrorist organization or rather persevere in backing it.
Regarding the constant western accusation of using chemical weapons and SCUD missiles, the Minister reiterated that even if Syria had chemical weapons, it would never use it against its people nor within or outside Syria, since the use of chemical weapons is against Syria's national, religious and moral culture, adding that there's a video showing terrorists experimenting in a lab in Gaziantep in Turkey and that letters were sent to the UN Secretary-General and the Chairman of the Security Council to inform them of this video.
On the situation in al-Yarmouk Camp, the Minister said that the Syrian Arab army did not interfere in al-Yarmouk Camp at all, and that the terrorists' entry into it were facilitated by sides from within the camps, adding that they withdrew after reaching agreements with Palestinian popular committees and figures from the camp.
He said that Syria informed the UN that what happened in the Camp was unacceptable and that terrorist groups and Jabhet al-Nusra must be pressured to leave it, stressing the need to avoid involving the Palestinian camps in the crisis, adding that Palestine will remain at the core of the conflict and the central cause for Syria, and the Palestinian people in Syria and outside will remain part of Syria's cause, identity and future, stressing that betting on anything to the contrary is a losing bet.
On allegations that Syria is arming the Kurdistan Workers' Party (PPK), al-Zoubi said that Syria is not arming the PKK and does not allow anyone to launch an aggressive action against any country across its borders, adding that if anyone has documents or evidence, then let them submit it
He affirmed that the age of media exaggeration has come to an end, and that talk must be backed with documents and evidence, noting that the Syrian government possesses evidence of the Turkish involvement in supporting terrorism in Syria.
The Information Minister went on to say that Iraq is a brotherly country and that Syria cares for its security and stability and opposes interference in its affairs, stressing the need for foreign powers to stop their interference in the Iraqi affairs, particularly Turkey and the Arab Gulf countries.
Al-Zoubi concluded by saying that the Syrian state, army, government, people and establishment are present and standing, and that any talk to the contrary by officials or satellite channels or political analysts is untrue and contradictory for reality, calling upon all the figures or governments that had bet on armaments to abandon that and begin political work.