Syria
Syrian Planes Drop "Surrender Now" Leaflets over Militant Positions East of Damascus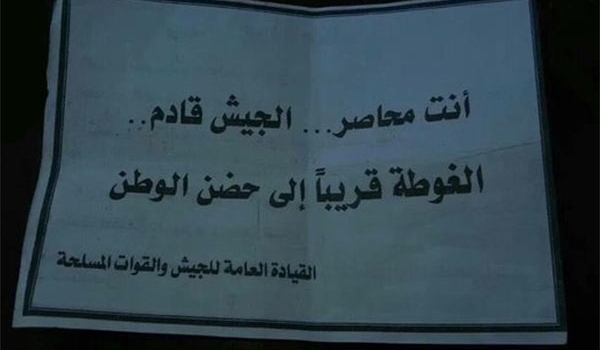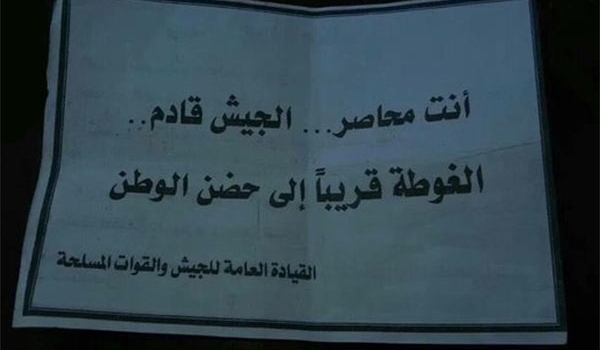 The Syrian Army announced on Friday that the country's air fleet dropped "Surrender Now" Leaflets over the militant groups in Eastern Ghouta to give a last chance to the terrorists to lay down arms and surrender to the authorities.
The Syrian Air Force delivered a gift to the militant groups in Eastern Ghouta via an airdrop of a large amount of leaflets reading "surrender now; you have nowhere to go".
The battle for Eastern Ghouta region of rural Damascus has proven to be one of the most violent fronts in all of Syria after almost 4 years of non-stop fighting between the Syrian forces and Jeish al-Islam terrorist group.
Recently, the Syrian army's 102nd Brigade and the 416th Regiment of the Republican Guard seized the strategic Marj Al-Sultan Military Airport and its nearby village, marking the end of Jeish al-Islam's presence at this strategic site in Damascus countryside.
Now, the situation in the East Ghouta has turned from bad to worse for the militants of Jeish al-Islam, as the Syrian Armed Forces are currently pushing North from Marj al-Sultan to the imperative city of Harasta, where the majority of the firefights in this region are taking place.