Syria
Syrian troops kill several US, Israel, Qatar, S.Arabia, Turkey-backed terrorists in Aleppo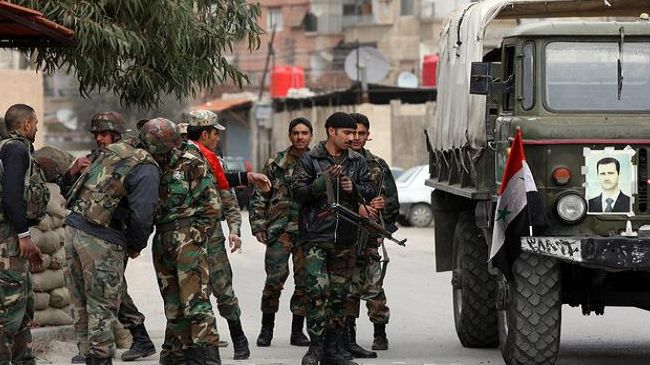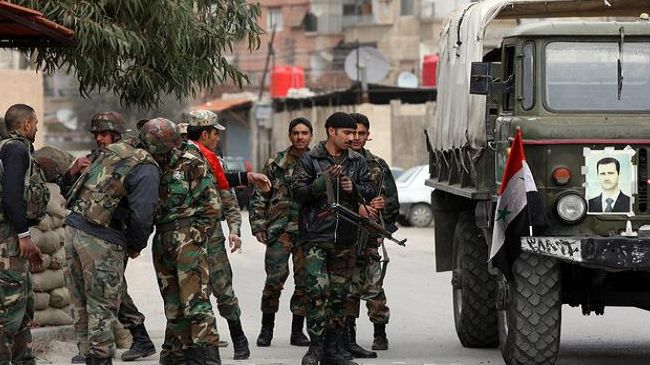 Syrian Army soldiers have killed several foreign-backed militants fighting government forces in the flashpoint city of Aleppo.
On Monday, the army said it killed and wounded many "terrorists" in the fighting in the district of Khan al-Asal in Aleppo and seized their weapons, the official SANA news agency reported.
Syrian government forces also launched attacks against militants in the governorates of Damascus, Homs, Daraa, and Idlib on Monday and killed a large number of them.
In addition, the Syrian armed forces captured many machine guns, sniper rifles, rocket launchers, hand-made rockets, mortar shells, and anti-tank missiles.
And a unit of the Syrian armed forces ambushed militants in the town of Jouret Hawwa in the countryside near Hama and seized many weapons.
The Syria crisis began in March 2011, and many people, including large numbers of soldiers and security personnel, have been killed in the violence.
The Syrian government says that the chaos is being orchestrated from outside the country, and there are reports that a very large number of the militants are foreign nationals.
In an interview recently broadcast on German television, Syrian President Bashar al-Assad said that the government did not start the conflict and the militant groups were the ones killing Syrian citizens and destroying the country's infrastructure.