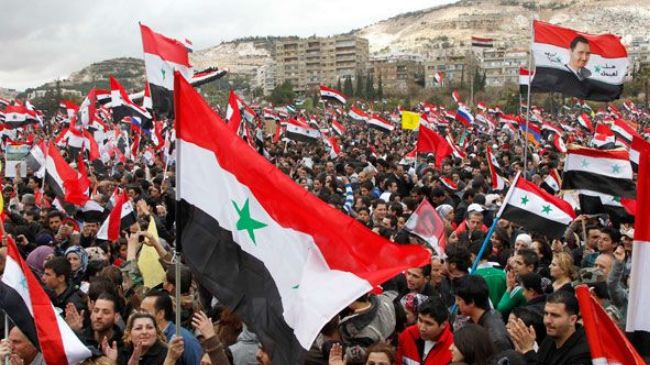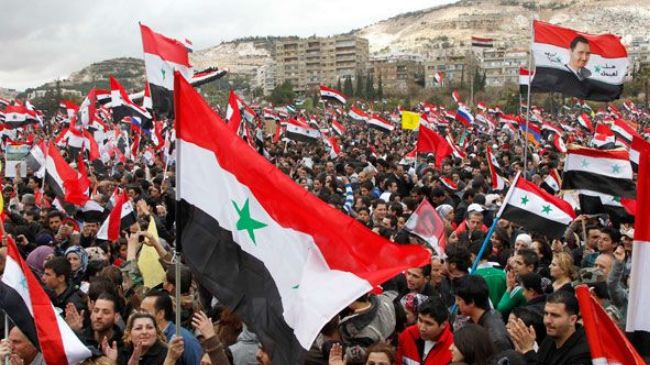 Hundreds of Syrians have gathered in the nation's capital city of Damascus to condemn Saturday's bomb explosions that killed at least 27 people.
Protesters once again waged a major rally on Sunday to express support for the Syrian government and denounce any foreign intervention in their country.
Two car bombing attacks killed at least 27 people and injured almost 100 others in al-Qasaa and Duwar al-Jamarek areas of Damascus.
The government has blamed the attacks on foreign-backed terrorists.
Government supporters said the bombings were aimed at sabotaging efforts by UN-Arab League envoy Kofi Annan to find a political solution to the crisis in Syria.
Saudi Arabia and Qatar have been widely blamed for supporting those behind the deadly terrorist attacks. The two US-backed Persian Gulf Arab kingdoms have openly called for supplying Syrian armed groups with weapons.
An unnamed high ranking Arab diplomat said on Saturday that a Syria-bound Saudi Arabian shipment of military equipment is on its way to Jordan.
The diplomat said that Saudi Arabia's new military shipment is intended for a terrorist group calling itself Free Syrian Army.
Syria has been experiencing unrest since mid-March 2011.
Damascus blames "outlaws, saboteurs, and armed terrorist groups" for the unrest, insisting that it has been orchestrated from abroad.