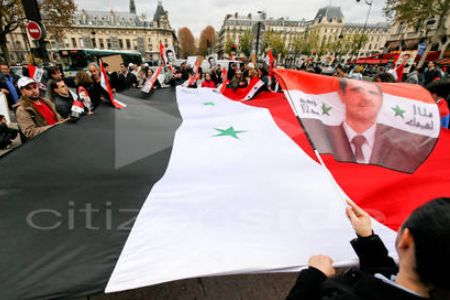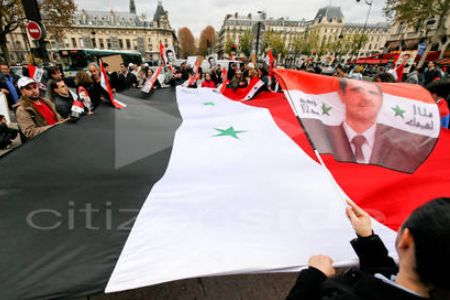 Supporters of Syrian President Bashar al-Assad have taken to the streets of the French Capital Paris to protest the interference of foreign government into Syria's internal affairs.
Chanting slogans in support of the Syrian president, the protesters thronged in front of the Saudi and Qatari embassies in the French capital on Saturday and condemned the meddling by foreign states, including Saudi Arabia and Qatar, in Syrian domestic affairs, IRNA reported on Saturday.
The demonstrators said the interference of foreign countries in Syria is in line with the US and israeli regime's policies, demanding certain countries, including the United States and France, to stop interfering in Syrian affairs.
Meanwhile, French police adopted strict security measures around the Saudi embassy in Paris.
Pro-Syrian government rallies in Paris coincided with similar demonstrations in the Turkish capital on Saturday, where a large crowd of Syrians voiced their support for Assad and his government.
Syrian people have repeatedly expressed solidarity with their government. Press report indicate that during past weeks, millions of people have demonstrated in support of President Bashar al-Assad.
A recent US-backed resolution adopted by the Arab League against Syria has further enhanced the unity of the Syrian people.
On November 27, the Arab League approved unprecedented sanctions against Syria, including a freeze on assets possessed by the Syrian government and an embargo on investments for projects in the country.
Moreover, confessions by captured U.S-backed-Syrian armed terrorists about foreign-sponsored plans to carry out armed activities and killing ordinary people as well as security forces prove that the recent developments in the country aimed at inciting a revolt in the strategic country neighboring the zionist israeli regime, and bringing to power a US- and israel-friendly government.