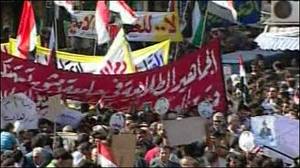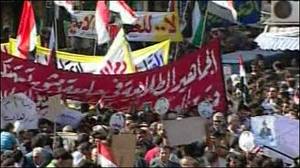 Damascus, (Press TV) — Hundreds of Syrians and foreign nationals have gathered near the US Embassy in Damascus calling on Washington to stop meddling in Syria's internal affairs.
The demonstrators condemned the US "double standards" policy towards Syria and other countries while "turning a blind eye to Israeli crimes against Palestinians," Syria's Arab News Agency (SANA) reported.
Pointing to the human rights violations committed by the US in Guantanamo in Cuba, Abu Ghraib Prison in Iraq, Afghanistan and in their secret prisons spread around the world, the protesters urged Washington to "mind its own internal affairs" before lecturing "freedom and human rights" to other countries.
The demonstrators said that United States should refrain from spreading chaos in Syria.
They said that the Syrian nation will "refute all lies, will not accept injustice, will foil all US conspiracies and will sort out their problems on their own."
Syrian President Bashar al-Assad has introduced a new package of reforms, which he has said would meet the demands of pro-reform protesters in the country.
Assad has also granted amnesty for all those detained during the recent protests, aside from those who Damascus says have committed criminal acts against the homeland and its citizens.