Middle East
North America
Syria
Syria's Tribal Leaders Eyeing Popular Resistance against US Troops in Deir Ezzur
Syrian tribes are working to form a Popular Resistance against the occupying US Troops in Eastern Syria, the Arabic-language media outlets said.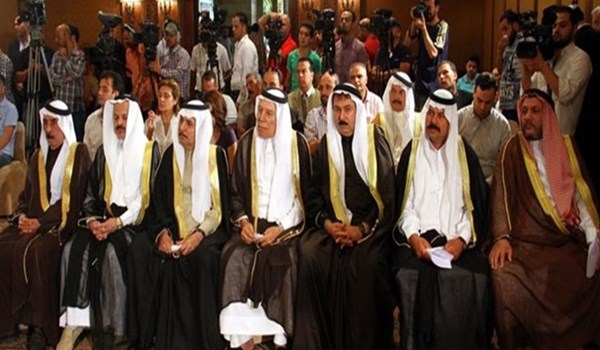 The Arabic-language al-Watan newspaper quoted local sources in Eastern Syria as saying that a meeting has recently been held between tribal leaders and the elderly as well as head of Deir Ezzur Military Security Committee and the province's governor Abdelmajid al-Kawakebi and Syrian Army's backup forces.
The sources noted that participants in the meeting discussed issues such as forming popular resistance forces against occupying American forces in Deir Ezzur and al-Jazira region of Syria and ways to confront these forces.
Meantime, the Arabic-language Arabi al-Youm pointed to acute differences between Arab tribes in Eastern Deir Ezzur with the US-backed militants, and said that the tribal leaders of al-Akidat and al-Bakareh tribes in Eastern Deir Ezzur strongly opposed the Kurdish militias' decision to dismiss head of Deir Ezzur Civil Council and replace him with their own forces.
In a relevant development earlier in July, the tribal leaders in Deir Ezzur had voiced strong opposition to the Saudi plots to support the Syrian Democratic Forces (SDF)'s separatist measures in the Eastern parts of the province.
Al-Watan newspaper reported that al-Jamel tribe in Eastern Deir Ezzur has issued a statement to emphasize its opposition to the appointment of SDF-affiliated Ahmed al-Khabil as the Sheikh of al-Bakir tribes in Eastern Deir Ezzur and the head of Syria's military democratic council.
Al-Jamel tribe has referred in the statement to the terrorist acts by the SDF in Eastern Euphrates region, and said that it does not recognize al-Khabil who has been appointed with the support of Saudi Minister for Persian Gulf Affairs Thamer al-Sabhan and the terrorist militias as the Emir of al-Bakir Sheikhs.
Other Syrian tribes had also earlier stressed their opposition to al-Khabil's appointment.
Meantime, the Arabic-language al-Baladi news website affiliated to the militants reported that one of the leaders of Syria's Arab tribes namely Obaid Khalaf al-Hissan was assassinated in the town of al-Ali Bajeliyeh in Tal Abyadh region in Northern Raqqa after stopping cooperation with the Kurdish forces in Eastern Euphrates.
It added that the SDF commanders had earlier attempted to return him.