Awakening
Islamic Awakening
Middle East
World News
Systematic Islamophobia to blame for NZ terror attack: Senior Muslim figures
Hundreds of prominent Islamic figures from across the world have condemned a recent deadly terrorist attack on Muslim worshipers at two mosques in New Zealand, saying the assault was "the awful outcome of systemic and institutionalized Islamophobia."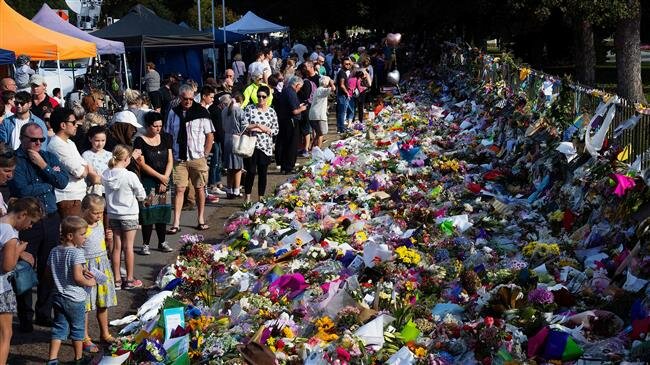 At least one armed assailant, who identified himself as Brenton Tarrant, shot 50 worshipers dead and wounded some 50 others – nine of whom are in critical condition — during Friday prayers at the mosques in Christchurch city.
The Australian terrorist broadcast live footage on Facebook of the attack on one mosque, after publishing an ideological "manifesto" filled with extreme views, in which he described Muslim immigrants in Europe as "invaders."
The terrorist also wrote, "We are coming for Constantinople and we will destroy every mosque and every minaret in the city. The Hagia Sophia will be liberated from the minarets, and Constantinople will be rightfully Christian owned once more," referring to a historical church-turned-mosque on the European side of the transcontinental Turkish city of Istanbul.
Reacting to the crime, over 350 Muslim leaders from the UK, the US and South Africa, among other countries, on Monday signed a letter to The Guardian, slamming the mainstream media, politicians and academics for fueling "bigotry" and "hatred" against Muslims in their societies.
At least one gunman has killed 49 people and wounded more than 20 during Friday prayers at two New Zealand mosques.
"This bigotry has been fueled by certain callous academics, reckless politicians as well as media outlets who regularly feature those who demonize Islam and Muslims with impunity, disguising their vile mantra behind a veneer of objectivity," the Islamic leaders said, adding that the terrorist attack was "inspired by hatred of Islam and Muslims."
They argued if nationalist views and hatred of racial and religious minorities are left unchecked in the media and within political discourse and institutions, minority communities will continue to face growing threats of persecution around the globe.
In another part of the letter, the Islamic figures described the terrorist attack as "calculated and extremely well-planned."
"The massacre of Muslims did not just begin with bullets fired from the barrel of Tarrant's gun. Rather it was decades in the making: inspired by Islamophobic media reports, hundreds and thousands of column inches of hatred printed in the press, many Muslim-hating politicians and unchecked social media bigotry," read the letter.
The Muslim leaders urged the people of all faiths to adopt a united stance that "an attack against one community is an attack against us all."
They also called on governments to "realize the dangerous threats posed by far-right groups and white supremacists and to take proactive measures in order to protect and educate citizens."