Syria
Teachers, students stage protest in Syria's Hasakah as SDF militants occupy schools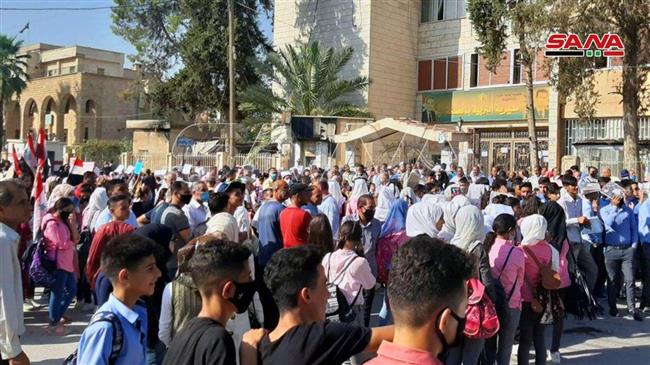 Dozens of teachers and students have staged a protest in Syria's northeastern province of Hasakah against the takeover of schools by militants affiliated with the so-called Syrian Democratic Forces (SDF), which has prevented thousands of pupils from attending classes.
The protesters gathered in front of the Education Directorate in the provincial capital city of Hasakah on Thursday to slam SDF terrorists for assault on educational staff and students of a high school for gifted students.
The demonstrators hoisted placards denouncing the takeover of educational centers by SDF militants as a "US-Israeli plot," and called on the US-backed militants to leave schools.
The participants said the extremists planned to deprive thousands of children and youths from education.
The Syrian Ministry of Foreign Affairs and Expatriates said on Tuesday that SDF militants continue their arbitrary practices against local populations, where they are positioned, and tend to intimidate and deprive children and adolescents of the education they require.
"SDF terrorists have systematically continued their violations [against Syria's education sector] since 2013, when they sought to impose their own curricula on schools. They later escalated their acts to forcibly take over schools, and turn them into training bases and prisons under US support," an unnamed source at the foreign ministry said in a statement released on Tuesday.
The source added that Syrian people firmly reject such violations, and are determined to send their children to state schools.
Security conditions are reportedly deteriorating in SDF-controlled areas in Syria's northern and eastern provinces of Hasakah, Dayr al-Zawr and Raqqah amid ongoing raids and arrests of civilians by the militants.
Local Syrians complain that the SDF's constant raids and arrest campaigns have generated a state of frustration and instability, severely affecting their businesses and livelihood.