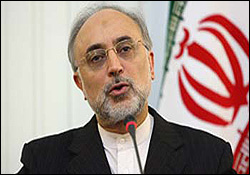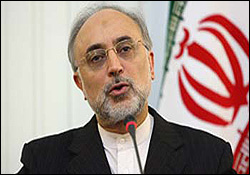 Iranian Foreign Minister Ali Akbar Salehi has criticized the new round of U.S. sanctions against the Islamic Republic which came into effect on July 1, saying that Washington should adopt an interactive approach toward Tehran.
"We advise the Americans to learn from history and interact with the Iranian people," Salehi told the Fars News Agency on Monday.
Sanctions have been ineffective so far, Salehi said and called the implementation of the new sanctions against Iran an "unwise move".
According to Reuters, the new sanctions, target trade with Iran's shipping and automobile sectors, gold sales to Iran and handling of the Iranian currency, the rial – a further attempt to persuade Tehran to curb its nuclear program, which Iran says is entirely peaceful but the West suspects may be geared to developing weapons.
The sanctions are the first since moderate cleric Hassan Rohani won the presidential election in June, boosting hopes for a resolution of the decade-old nuclear dispute, which, in the White House's words, has drawn "the most stringent and broad sanctions regime in the history of the world."
According to the New York Times, proponents of the latest round of sanctions said they could deprive the Iranians of billions of dollars of income, particularly with the new prohibition on gold trade. Bullion dealers in other countries who flout the prohibition risk severe American penalties, including expulsion from the United States precious metals market.