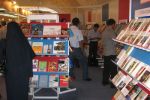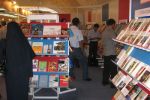 The Institute for Intellectual Development of Children and Young Adults (IIDCYA) will be hosting the 9th edition of the Academic and Professional International Book Fair this year that opens on November 5.
About 88,000 foreign books will go on display at the fair, out of which about 84,000 are in English and the rest are in Arabic and Persian, director of the Iranian Cultural Association of International Publishers Reps Ahad Rezaii said in a press conference held here on Tuesday.
He said that the books published between the years 2006 to 2011 will be the only ones permitted to be displayed at the fair, he said, adding that a wide range of books covering different subjects such as medicine, agriculture, engineering, and social sciences will be available at the fair.
Visitors can buy the books at a discount, Rezaii said, adding that in an agreement signed between the association and the Ministry of Science, Research, & Technology, officials have promised to allocate a sufficient budget for universities in deprived areas of the country.
"The budget is expected to be dedicated to equipping the libraries of universities in deprived areas," he added.
The difference between the Tehran International Book Fair and this fair is that there are no signs of those long queues to purchase books and students can easily purchase their books, he said.
Rezaii also announced that publishers are required to order the books they have finished for the customers and deliver them within two months.
A session on electronic books is also arranged on the side section on November 6 with publishers active on E-books.
The book fair will be running until November 9 at the venue of IIDCYA on Hejab St.