Iran
Middle East
North America
Tehran: US must change behavior towards Iran; shift in tone not enough
Tehran says it pays little attention to the change in US President Donald Trump's rhetoric on Iran, and that it will not hold talks with Washington until it also changes its behavior towards the Islamic Republic.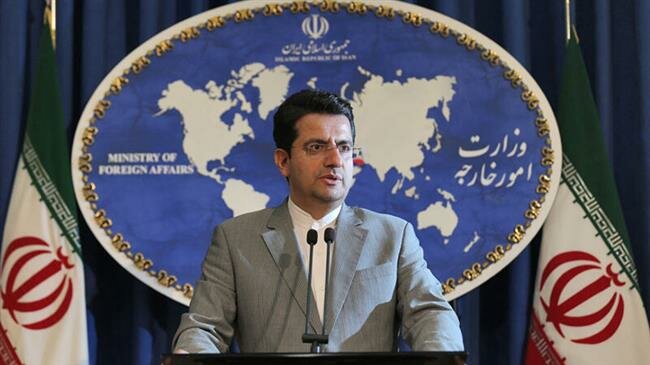 In early May, the Trump administration announced plans to build up Washington's military presence in the Middle East to counter unspecified Iranian "threats," shortly after toughening oil sanctions against the Islamic Republic.
However, in parallel with his belligerent policies, Trump has, on several occasions in the past weeks, offered to hold talks with Iran.
During a visit to Japan on Monday, Trump used a more conciliatory tone, saying the US was not seeking a regime change in Iran and repeating the offer of negotiations.
Trump tones down rhetoric, rejects Iran regime changeUS President Donald Trump has taken the regime change option off the table and called for talks with Tehran instead.
Reacting to Trump's latest comments, Iranian Foreign Ministry spokesman Seyyed Abbas Mousavi said Tuesday that Tehran "pays no attention to mere words and rhetoric. What matters to us is that this shift in tone will be complemented with a change in [US] behavior and approach."
"We will base our decisions on our own observations as well as the impacts [of US moves] on our country and the region," the Iranian official added.
He censured Washington's decision to withdraw from a 2015 multilateral nuclear deal and reimpose sanctions against Iran, blaming the "illegal" move for destroying any prospect of negotiations with America.
'Actions not words,' Iran's Zarif urges TrumpIran's foreign minister says US President Donald Trump has to prove in action whether he seeks to fall into line with the league of anti-Iran domestic and regional officials.
Mousavi further called on Americans to respect international agreements and resume their commitments under the 2015 deal before any offer of negotiations.
"Currently, we are not in talks with the US," he said, adding that from Iran's viewpoint, holding any such talks is conditioned on the US returning to the international agreement that it has violated.