Europe
North America
Tens of thousands of protesters to face Trump in London
US President Donald Trump is to face tens of thousands of protesters after he arrives in London next week.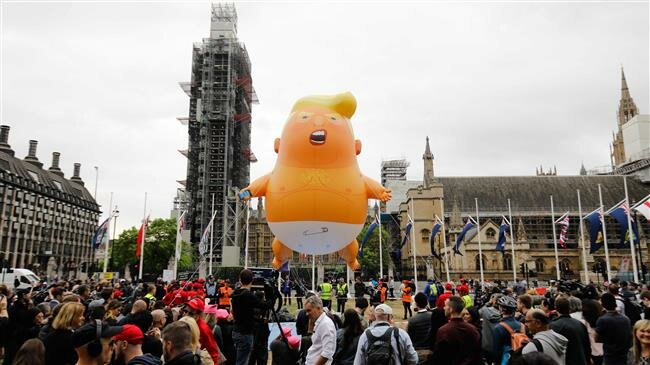 Trump is set to arrive late on Monday for a two-day NATO summit but doctors, nurses and other workers of the National Health Service are planning to gather outside the Buckingham Palace on Tuesday, The Guardian reported Saturday.
The protesters are planning to highlight potential risks to the NHS in a future US-UK trade deal after Trump said in his last visit to the UK in June that "everything is on the table" – including the NHS – in trade talks with Britons.
Watch Britons marching against Trump's UK visitDemonstrators protest on Trafalgar Square, in central London, and march against the visit of US President Donald Trump.
The protesters will march from Trafalgar Square up the Mall, and gather at Canada Gate when the US president and other leaders of the North Atlantic Treaty Organization meet Queen Elizabeth II at a drinks reception.
Labour leader Jeremy Corbyn is set to give a foreign policy speech aimed at Trump on Sunday.
He has previously accused British Prime Minister Boris Johnson of putting the NHS "on the table" in "secret talks for a deal with Donald Trump after Brexit."
This is while Johnson, a close Trump ally, has suggested that the US president should not interfere in UK politics and elections.
"It's best when you have close friends and allies like the US and the UK … for neither side to be involved in each other's election campaigns," the British premier said in an interview on LBC recently.
Some of the speakers at the upcoming anti-Trump demonstration will be activist Tariq Ali, musician Brian Eno, and the general secretary of the Campaign for Nuclear Disarmament, Kate Hudson.