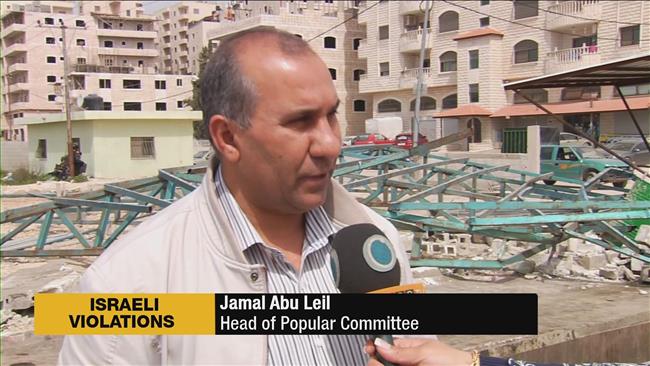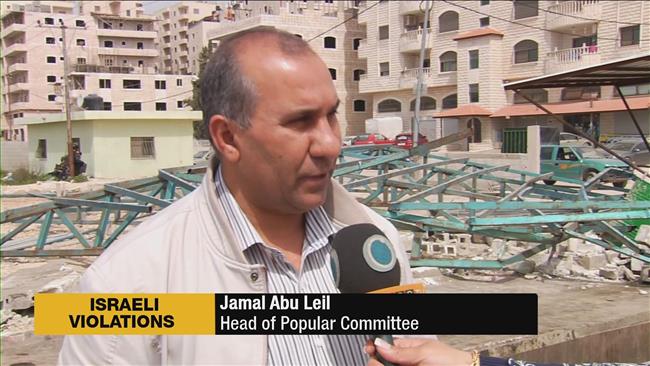 Israeli bulldozers have demolished a number of Palestinian structures in East al-Quds (Jerusalem) as the Tel Aviv regimes presses ahead with the expropriation of Palestinian lands despite the international outcry, Press TV reports.
On Wednesday, the bulldozers, escorted by convoys of Israeli military troopers, rolled into East al-Quds neighborhood of Kafr 'Aqab, and leveled several Palestinian-owned buildings, among them a car wash, to the ground.
"There used to be a car wash here. This morning we were surprised by the bulldozers destroying everything. The Israeli soldiers have not informed us about the reason. No one can defy these orders. They do whatever they want jut to keep humiliating Palestinians," Rebhi Shabaneh, who used to work in the car wash, told Press TV.
Palestinians argue that Israel is seeking to grab more Palestinian land in order to continue construction of the separation wall, which snakes across the occupied West Bank, isolating large swathes of Palestinian territories.
Kafr 'Aqab, with an estimated population of 20,000 people, has been annexed with the rest of East al-Quds by Israel and falls under its full jurisdiction. The area is separated from al-Quds by the separation wall, and local residents have been deprived of most public services.
"The majority of these buildings in Kafr 'Aqab and other towns do not have authorization from Israel. These buildings are located near the illegal separation wall and the Qalandiya Airport. Now, the fear is that the Israeli Occupation plans to expand the barrier and build a settlement here. This means further crackdown on the residents of Quds," Jamal Abu Leil, Head of the Popular Committee, said.
The development comes a day after Israeli soldiers and settlers escorted bulldozers to the land near the village of Kisan, southeast of Bethlehem, to flatten the ground.
Israeli authorities plan to build an industrial zone of 150 acres on the land, Khalid Qaddura, the director of Bethlehem's District Civil Liaison Office, said.
He also added that the plan would isolate Kisan from adjacent Palestinian villages and leave it encircled by Israeli settlements and the industrial zone.
More than half a million Israelis live in over 120 settlements, built since Israel's occupation of the Palestinian territories in the West Bank, including East al-Quds, in 1967.
The Israeli settlements are considered to be illegal by the United Nations and most countries because the territories were captured by Israel in the war in 1967 and are thus subject to the Geneva Conventions, which forbid construction on occupied lands.