Syria
Terrorist Tahrir Al-Sham's Ringleader Al-Jolani Admits Losing Bases in Hama After Civilians' Resistance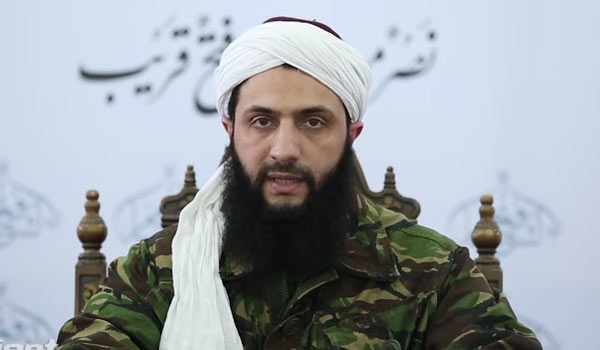 Ringleader of Tahrir al-Sham al-Hay'at (the Levant Liberation Board or the Al-Nusra Front) Abu Mohammed Al-Jolani admitted that his terrorist group has lost its bases in Hama after people refrained from cooperating with them as civilians and tribal leaders in Idlib are trying to hand over their regions to the Syrian Army.
Al-Jolani held a meeting with 50 representatives of different terrorist groups and some media activists in Idlib on Friday, pro-militant sources said, adding that during the meeting al-Jolani admitted to Syrian Army's control over two key towns of Kafar Naboudeh and Qala al-Maziq and said that the two towns fell due to weak backup and resistance of the residents of the towns against a reinforcement of militants' positions there.
Meantime, the sources underlined that the tribal leaders of the cities of Khan Sheikhoun, Ma'arat al-Numan and several other towns are trying to hand over these regions to the Syrian Army concurrent with the Syrian Army's advances in Northern Syria.
In a relevant development in late April, Al-Jolani threatened other terrorist groups to avoid handing over Syria's occupied territories to the Damascus Army.
Al-Jolani held a meeting with eight senior commanders of other terrorist groups, including Islamic Turkistani Party, Harasuddin and Jeish al-Izza, in Atmaeh town near the border with Turkey, the Arabic-language service of the Russian Sputnik News Agency quoted local sources in Idlib province as saying.
Tahrir al-Sham's ringleader who attended the meeting under tight security measures strongly warned commanders of other terrorist groups that they would be regarded as traitors if they hand over any region under any agreement to the Syrian Army, warning of Tahrir al-Sham's revenge and lethal blow.
Meantime, al-Jolani also asked other terrorist commanders to put their militants on a state of full alert and keep their bomb-laden suicide vehicles prepared for operation.
Al-Jolani, who was attending his first meeting after two months, was accompanied by three Turkish-speaking militants in the meeting with other notorious terrorist commanders.
Al-Jolani was critically wounded in twin explosions in the Center of Idlib city in late February and went into a state of coma.
"One of those injured in Idlib blasts was severely suffering from brain injury and he was transferred to a government hospital in Antakia City in Hatay region," Sputnik quoted a medical source in Turkey as saying.
The medical source said that the injured person is Abu Mohammed al-Jolani who had shrapnel head injury and he is now in a state of coma.