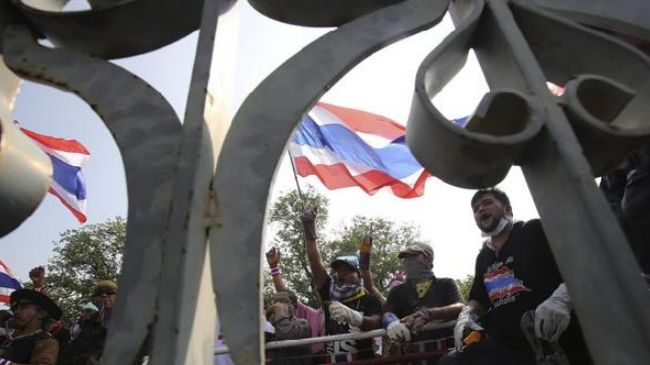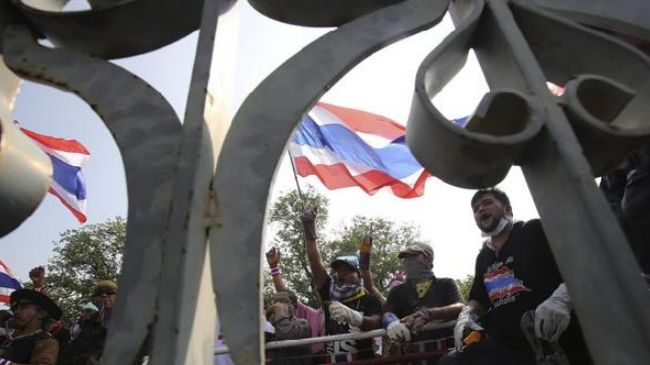 Anti-government protesters in Thailand have cut off the electricity to Prime Minister Yingluck Shinawatra's office, demanding police forces to leave the premises.
On Thursday, protesters threatened to make their way into the prime ministerial office compound, known as Government House in Bangkok if the police failed to leave the area.
Reports say the prime minister was not in her office at the time of the gathering.
Following the incident, Yingluck gave a televised address from an unknown location, announcing that a meeting of all sectors of society would be held on December 15 about the current situation in the country.
Anti-government protesters have been demanding a meeting with senior military and police officials, which has so far been rejected.
The gathering is the second of its kind. During the first confrontation, police forces withdrew from the compound, allowing protesters to advance forward.
Over the past days, protests have been held in Thailand, with demonstrators calling for Yingluck's resignation. They say she should be tried for treason.
Earlier this week, former lawmaker and current protest leader Suthep Thaugsuban, gave the prime minister 24 hours to step down from power.
The Thai premier defied the demands, vowing to stay in office as caretaker prime minister until February 2, when a general election is scheduled to be held. The opposition-backed protesters demand that Yingluck be replaced before the general election.
On December 9, Yingluck called an early election and announced the dissolution of parliament in order to calm the situation.
Anti-government protests started on October 31 after the government proposed an amnesty bill that could have extended a pardon to Yingluck's brother, ousted Prime Minister Thaksin Shinawatra, and paved the way for his return to Thailand.
Thaksin was ousted in a military coup in 2006. He has been in self-imposed exile to avoid a two-year prison sentence over corruption since 2008. He is accused of being in control of the current government.