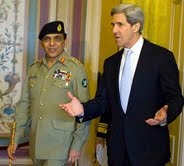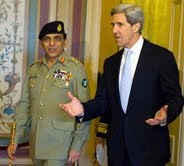 Pakistan's Chief of Army Staff (COAS) General Ashfaq Pervez Kayani, who is on a scheduled visit to Jordan, met with US Secretary of State John Kerry in Oman.
Secretary Kerry, who was also on a visit to the Middle East, was in Jordan on March 24 read a statement of the Inter Services Public Relations on Monday.
Both officials discussed the reconciliation process in Afghanistan and security issues in the South Asian region.
US Secretary of State Kerry also paid an unannounced visit to Afghanistan on Monday for talks with President Hamid Karzai.
A US official told the media Kerry had wanted to visit Pakistan but preferred to postpone until after the general elections not to disrupt any preparations.