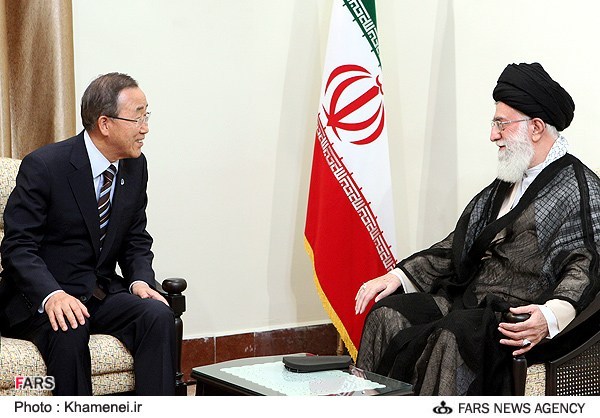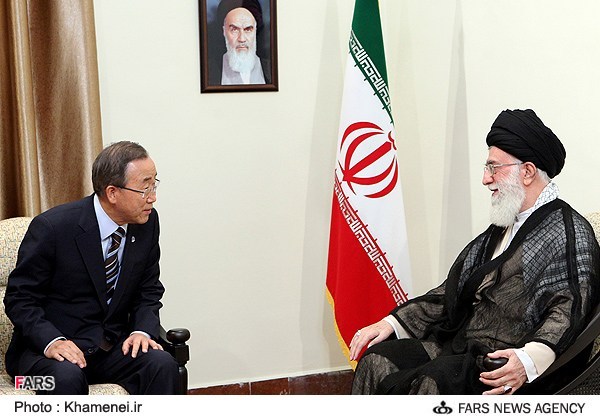 The Leader Islamic Ummah and Oppressed People Imam Sayyed Ali Khamenei met with UN Secretary-General Ban Ki-moon here in Tehran today.
Ban Ki-moon arrived in Tehran to attend the 16th Non-Aligned Movement (NAM) heads-of-state summit and confer with Iranian officials on different regional and international developments.
Upon arrival in Tehran, the UN chief announced that he intends to meet with senior Iranian officials, specially the Leader, to discuss regional issues, the crisis in Syria in particular.
Earlier today, Ban Ki-moon met with Iranian President Mahmoud Ahmadinejad and discussed the latest regional and international developments.
During the meeting, the two sides discussed the most important regional and international issues and NAM's role in the establishment of sustainable peace and security in the world.
In addition to the meeting with Ahmadinejad, the UN chief had also earlier held a meeting with Iranian Parliament Speaker Ali Larijani.
He is also scheduled to hold meetings with Secretary of Iran's Supreme National Security Council (SNSC) Saeed Jalili.