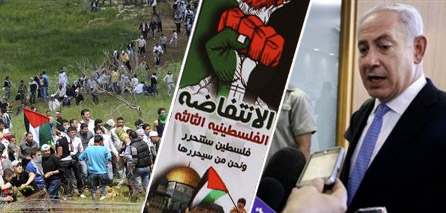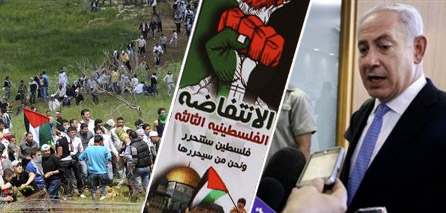 Israeli occupation's Prime Minister Benjamin Netanyahu expressed his deep concern over theThird Palestinian Intifada revolution which may lead to the demise of his alleged "Jewish state".
"Netanyahu fears he will not be able to stop (what will happen in) September," a top official told the Israeli news website Ynet. "The prime minister is making an effort to convince European states that if riots begin after the declaration of statehood responsibility will not fall on Israel." Ynet qouted Israeli official remarks.
The Israeli occupation forces' leaders expected more demonstrations to be held inside and out side the occupied territories, especially after the border violent clashes erupted between the angry Syria-Palestinians and the Israeli occupation forces led to the killing of more than 22 protesters.
"There is one scenario in which many thousands, or possibly tens of thousands, begin a march that becomes riots and serious conflicts with the "IDF"," Israeli official said.
The biggest fear for the Israeli occupation leaders here, is the Palestinian residents in the occupied territories of 1948, they are expected to play a major role in the third Palestinian intifada revolution against the Israeli occupation, and this thing may worsen the situation for "Zionist Israel and Its allies" and put it in the corner.
"The fear is that Israeli-Arabs will also join the riots, leading to internal and external instability at this sensitive time." Israeli official said to Ynet.
Israel also fears the possibility that the Palestinian declaration will cause the 250,000 Jewish people living in Jerusalem neighborhoods defined as outside the 1967 lines – such as Gilo, Ramot, and Har Homa – will lose their legitimacy to live there.
"It's a very serious problem, and it remains unclear how we will handle it," the official said, adding that the upcoming Gaza flotilla was also a sensitive matter that must be properly dealt with.