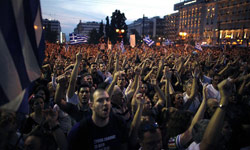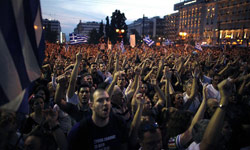 Thousands of Portuguese teachers demonstrated in capital Lisbon against government's tough austerity measures in exchange for the bailout from the international lenders for the heavily indebted country.
Raising high placards, the demonstrators marched from Marques Pombal Square along the Liberty Avenue towards their destination Restauradores Square in downtown Lisbon on Saturday, chanting antigovernment slogans, protesting government's austerity measures including an increase in working hours, layoff of teachers and reduction in compensation for layoff teachers and their allowances.
Organized by Portugal's main workers' union CGTP and UGT or General Union of Workers, the teachers came from kindergartens, elementary and high schools across Portugal, Xinhua reported.
A 41-year-old woman teacher from a high school in Obidos, who identified herself as Clara, said that they were protesting against the government for its decision to dismiss teachers in large numbers and slash their salaries.
Head of the Confederation of National Education under UGT Joao Silva said that nearly 10,000 employees from the education sector throughout Portugal participated in the demonstration on Saturday, the largest of its kind since the beginning of this year. The group will go ahead with their scheduled strike on Monday to demonstrate their exasperation over government's implementation of austerity measures.
According to local media reports, Portuguese Education Minister Nuno Crato had held talks with representatives from CGTP and UGT, urging them to put the students' interests first and cancel their strikes scheduled on Monday, June 24 and 28, the exam days in the country.
The Portuguese government has carried out a series of austerity and reform measures to meet the deficit reduction targets set by the troika comprising the European Union, the International Monetary Fund and the European Central Bank for their continuous bailout but the government's actions have triggered strong repercussion from the Portuguese.
In recent months demonstrations have become commonplace in Portugal with people from different sectors taking to the street in protest against government's austerity policies.