Yemen
Thousands of Yemenis protest killing of protesters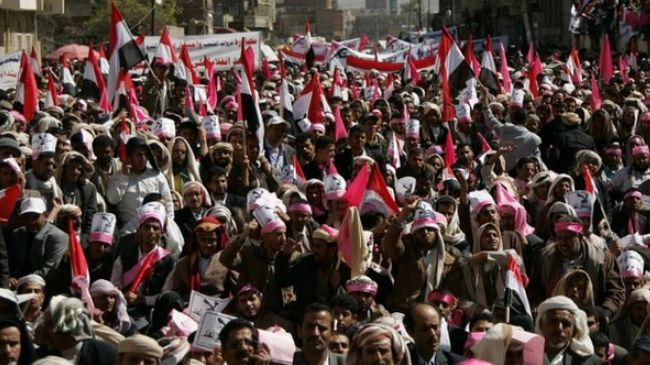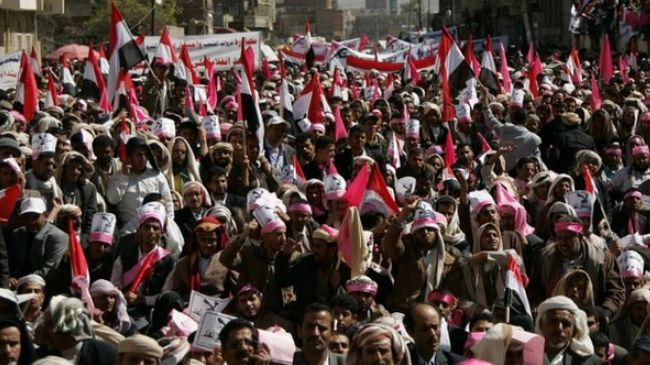 Monday's demonstration took place outside the headquarters of Yemen's national security service, the same area in Sana'a where 10 Shia Houthi protesters were killed and 38 others were injured at a demonstration a day before, AFP reported.
The protesters denounced the brutality of the security forces and called on the government to address the killing of innocent people.
"O people! Keep up the fight. The national security is vicious," they shouted.
On Sunday, the Houthis demonstrated outside the headquarters of the internal security service, which has been accused of human rights abuses.
They were demanding the dismantling of the service because of its involvement in suppression of political activists under ousted dictator Ali Abdullah Saleh.
The protesters were also demanding the release of the Houthis being held by the authorities.
Yemen's Shia Houthi movement draws its name from the tribe of its founding leader Hussein Badreddin al-Houthi.
The conflict between the government of Saleh and Houthi fighters in northern Yemen began in 2004 and ended when a truce was reached in 2010.
In August 2009, Saleh's government launched Operation Scorched Earth to uproot the Houthi resistance fighters, whom Sana'a had accused of seeking a return to the Zaydi imamate, overthrown in a 1962 coup.
In November 2009, Saudi forces also started fighting against the Houthis and bombing their positions after accusing the fighters of killing Saudi border guards.
Houthi fighters said that Saudi forces used toxic materials, including white phosphorus, in the attacks on northern Yemen.
The Houthis, who control parts of the north and are engaged in reconciliation talks with Sana'a, accuse the government of violating their civil rights and marginalizing them politically, economically, and religiously.
Saleh, who ruled Yemen for 33 years, stepped down in February 2012 under a US-backed power transfer deal in return for immunity, after a year of mass street demonstrations demanding his ouster.
His vice president, Abdrabuh Mansur Hadi, replaced him on February 25, 2012 following a single-candidate presidential election backed by the United States and Saudi Arabia.
The Houthi movement played a key role in the popular revolution that forced Saleh to step down.