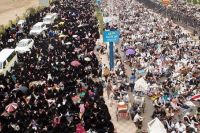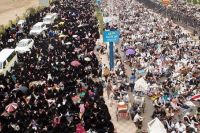 Hundreds of thousands of anti-government Yemenis staged demonstrations across the country, as fresh crisis triggered by steep fuel price hike escalates in the impoverished country.
Supporters of the Shiite Houthi Movement rallied in the capital Sanaa and more than ten provinces in Yemen, demanding the government to resume fuel subsidies and resignation of the cabinet, Xinhua reported.
Houthi accused Basindawa's government of incompetence and making empty promises, urging members of the army and security forces to join the planned protests and not become a tool in the hand of the government.
Yemen's Houthi movement draws its name from the tribe of its founding leader Hussein Badreddin al-Houthi.
The Houthi movement played a key role in the popular revolution that forced former dictator Ali Abdullah Saleh to step down.
Saleh, who ruled Yemen for 33 years, stepped down in February 2012 under a US-backed power transfer deal in return for immunity, after a year of mass street demonstrations demanding his ouster.