Bahrain
Human Rights
Middle East
Top Bahraini cleric demands release of prisoners amid coronavirus outbreak
Bahrain's most prominent Shia cleric Ayatollah Sheikh Isa Qassim has demanded the immediate and unconditional release of political dissidents currently being held in the Manama regime's prisons in the wake of the novel coronavirus pandemic, stressing that failure to take the measure will have dire consequences.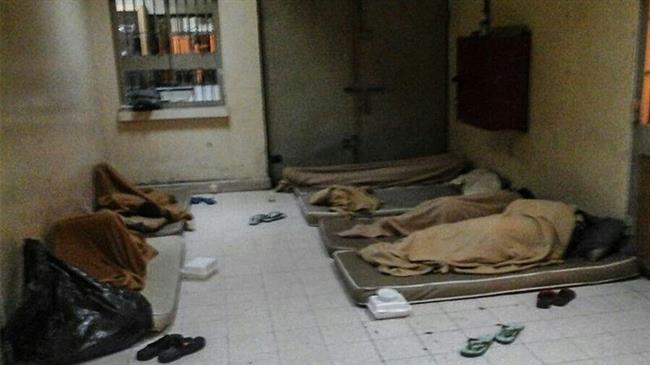 "Even if the release of political prisoners and prisoners of conscience in Bahrain, whose number stands in thousands, might not be recognized as a religious, constitutional, national and human right and would have no priority among the policies of ruling authorities, there is inevitable truth that COVID-19 virus could hit prisons and lead to consequences much more catastrophic that what the world has been witnessing," Arabic-language Bahrain Mirror news website quoted the cleric as saying in a statement.
He added, "Because of the high number of [coronavirus] patients and victims, security calculations cannot remain as perceived by local and foreign institutions in normal circumstances."
Sheikh Qassim then stressed the need for the freedom of political prisoners, saying, "Sitting idle and waiting for COVID-19 to strike prisons by surprise would plunge the country into chaos."
Denmark urges Bahrain to free political prisoners, including top rights activist KhawajaDenmark calls on Bahrain to release all political prisoners, including prominent human rights activist Abdulhadi al-Khawaja.
"Do not let coronavirus rip the homeland apart, and push it into unprecedented insecurity and hiatus. Neither reason nor suppression will be able to manage the situation once public rage over the spread of the virus boils over," the top Bahraini Shia cleric pointed out.
Meanwhile, a group of political prisoners at the notorious Jau Prison, south of Manama, have expressed their support for Sheikh Qassim's statement, and called on the international community and human rights organizations to pay attention to their condition.
"We are a group of prisoners of conscience in Jau Prison. We appeal to the international community, human rights organizations, and decision-making bodies of the world to prevent a humanitarian catastrophe at Bahrain's prisons," the dissidents said in a statement.
44 Members of European Parliament call on Bahrain king to free political prisoner Forty-four Members of the European Parliament urge the Bahraini king to free political prisoners, and start sincere negotiations with the opposition.
The statement added, "Apart from intense fears that the coronavirus pandemic could be transmitted to prisons and cause infections, the prison administration continues to neglect healthcare, and either cancels or postpones necessary medical appointments for people with chronic diseases."
"Given the exceptional situation in the world in light of the coronavirus outbreak, which requires the utmost protection and safety measures, we demand to provided with sanitary ware and prison buildings that are home to hundreds of inmates to be regularly disinfected," the prisoners highlighted.
Bahraini court gives prison sentences to seven anti-regime activistsA Bahraini court hands down prison sentences to seven anti-regime activists.
Thousands of anti-regime protesters have held demonstrations in Bahrain on an almost daily basis ever since a popular uprising began in the country in mid-February 2011.
They are demanding that the Al Khalifah regime relinquish power and allow a just system representing all Bahrainis to be established. Manama has gone to great lengths to clamp down on any sign of dissent. On March 14, 2011, troops from Saudi Arabia and the United Arab Emirates were deployed to assist Bahrain in its crackdown.
On March 5, 2017, Bahrain's parliament approved the trial of civilians at military tribunals in a measure blasted by human rights campaigners as being tantamount to imposition of an undeclared martial law countrywide.
In nationwide move, protesters mark 9th anniversary of Bahrain uprising Manama has gone to great lengths to clamp down on any sign of dissent since 2011.
King Hamad ratified the constitutional amendment on April 3 that year.