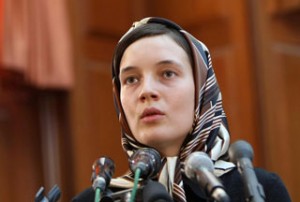 The trial of Clotilde Reiss, the Frenchwoman arrested during Tehran's post election street violence has reportedly come to an end.
The 24-year-old academician who was arrested in July on charges of taking part in a Western plot against the Islamic Republic, was present for the court hearing on Saturday.
While rejecting all charges against his client, Reiss' lawyer Mohammad Ali Mahdavi Sabet expressed confidence that she will be acquitted of charges of acting against Iran's national security.
Reiss, who was working in Iran as a lecturer at the Isfahan Technical University, has been staying at the French Embassy in Tehran since being released on bail in August.
On July 8, she appeared in a court hearing admitting that she had reported to the French Embassy and about 50 friends and members of her family about Iran's nuclear program, as well as the country's post-election developments.