North America
Trump's victory leads to protests, student walkouts across America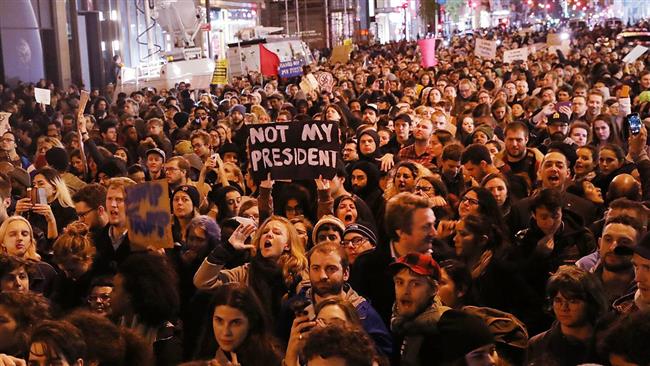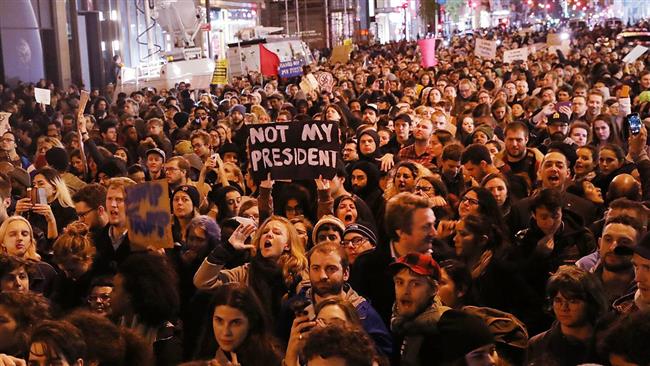 Thousands of demonstrators, including school and college students, have taken to the streets in cities across the United States to protest against Republican nominee Donald Trump's victory in the November 8 presidential election.
The demonstrations and walkouts were staged on Wednesday in which the participants slammed Trump's controversial campaign rhetoric about undocumented immigrants, Muslims and other groups.
Demonstrators expressed their anger and sadness at the shocking victory of Trump by putting his effigies on fire in California, Philadelphia, Boston and Portland, Oregon, and Washington.
Protesters censured Trump's campaign pledge to build a wall along the border with Mexico to keep immigrants from entering the United States illegally.
In Washington, DC, hundreds of demonstrators gathered outside the White House for a candlelight vigil before marching to the new Trump International Hotel, which is located a few blocks away on Pennsylvania Avenue.
"I'm trying to not be angry and trying to find more positive way to express my reactions. I don't think anger will help," said Kate Lasso, 57, who joined the crowd.
Thousands of protesters gathered in midtown Manhattan, New York, and marched toward Trump Tower, the billionaire businessman's office and home on Fifth Avenue. A large number of people amassed at a Manhattan park and shouted "Not my president."
About 1,800 protesters gathered outside the Trump International Hotel and Tower in downtown Chicago, and chanted slogans like "No Trump! No KKK! No racist USA."
"I'm just really terrified about what is happening in this country," said 22-year-old Adriana Rizzo in Chicago. He was holding a sign that read, "Enjoy your rights while you can."
In Seattle, police responded to reports of a shooting with several victims near the anti-Trump demonstration. Police, however, said the shooting was not related to the protests.
In Austin, hundreds of people marched through the streets to protest against the Trump victory, police said.
This is while Trump said in his victory speech he would be president for all Americans. "It is time for us to come together as one united people," he said.
And the Trump campaign last week rejected the support of a Ku Klux Klan newspaper, saying that "Mr. Trump and his campaign denounces hate in any form."
Students stage walkouts
Earlier on Wednesday, students and teachers across America staged walkouts to protest against Trump's surprise presidential victory.
About 1,500 students and teachers gathered in the courtyard of Berkeley High School, in a San Francisco Bay Area city known for its liberal politics, and later on marched toward the campus of the University of California, Berkeley.
Berenabas Lukas, a 15-year-old student who participated in the rally, said he felt less safe since President-elect Trump.
"I feel very disgusted at America," he said, adding he found it difficult "to see that your life isn't valued as an African American teen."
"[Having] a president that doesn't support Latinos or African Americans, who is racist, and who is going to run America for four years, maybe eight, is sickening," he stated.
A large number of high school and college students also staged walkouts in protest in Seattle, Phoenix, Los Angeles and three other Bay Area cities – Oakland, Richmond and El Cerrito.
About 300 high school students, largely Latinos, walked out of classes in Los Angeles and marched to the steps of City Hall, where they staged a boisterous demonstration.
"The people united will never be defeated," the protesters held signs with slogans such as "Not Supporting Racism, Not My President" and "Immigrants Make America Great."
Trump's election campaign had been marred by his disparaging remarks against minorities in the US. His comments include a call to ban all Muslims from coming to America as well as stopping Mexican migrants by building a long wall along the US-Mexico border.
He has also sought for a database to track Muslims across the United States and said that the US would have "absolutely no choice" but to close down mosques.