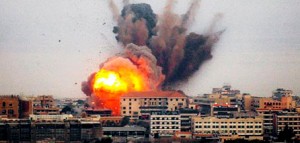 Two Israeli soldiers have been charged with using a Palestinian child as "human shield" during Israel's last winter assault on the Gaza Strip.
The two soldiers, whose names were not released, are facing charges for forcing a nine-year-old boy to open several bags suspected of containing explosives while searching a building in Gaza.
The Israeli army pressed the charges on Thursday.
The boy's case came to light after it was forwarded to the Israeli military by the United Nations.
The soldiers have been indicted in military court for "unauthorized conduct" and "exceeding their authority in a manner that endangered life or health," the army said.
The military says the soldiers could face up to three years in jail if convicted.
A UN report on the war, conducted by retired South African judge Richard Goldstone, slammed war crimes and possible crimes against humanity by Israel in the Gaza Strip.
The criminal charges are believed to be the first combat-related charges brought against Israeli soldiers for their actions during the three-week-long war on Gaza. A previous criminal case was brought against soldiers accused of stealing a credit card.
About 1,400 Palestinians, mostly women and children, were killed during the offensive. Human rights groups and a UN commission have accused Israel's military of committing war crimes and targeting civilians during the operation.