Iraq
Middle East
North America
Two Katyusha rockets land near US embassy in Baghdad's highly fortified Green Zone
At least two Katyusha rockets have landed in Baghdad's highly fortified Green Zone, which houses government buildings and foreign missions, including the US embassy, as calls grow for the American military to end its presence in Iraq.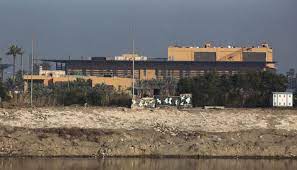 A statement released by the Security Media Cell, affiliated with the Iraqi prime minister's office, said one of the rockets was destroyed in the air by the C-RAM defense system, which protects the American diplomatic mission, and the other landed near the Grand Celebrations Square in the zone, damaging two civilian cars.
The statement added that Iraqi security forces had launched an investigation to identify those responsible for the attack and locate the site where the rockets were launched from.
Sabereen News, a Telegram news channel associated with Iraqi Popular Mobilization Units, better known as Hashd al-Sha'abi, reported that sirens went off, warning of a rocket attack on the US embassy in the Green Zone at the Third al-Tawheed Base.
The report added that the sounds of C-RAM missile systems responding to the projectiles, followed by massive explosions, could be heard throughout much of the area.
No group has claimed responsibility for the attack yet. There were no immediate reports of casualties and the extent of damage caused.
On Thursday, a bomb explosion struck a supply convoy for the US military in Iraq's central province of Babil.
Iraqi Ashab al-Kahf (Companions of the Cave) resistance group later claimed responsibility for the blast, which was the latest in a series of attacks targeting US forces in Iraq in recent months.
'Painful blows await US military if it stays'
Meanwhile, an Iraqi resistance group named Conquerors of Khyber Brigades has threatened US occupation troops with devastating blows in case the forces prolong their presence in the country.
The group said in a statement that American occupiers do not understand the language of peace and dialogue since they do not know anything other than military force.
"The deadline for US troops to leave Iraq is coming to an end, but these forces have not fulfilled their obligations," the statement read.
"We have decided to deal with these forces with painful and devastating blows and expel them from our lands. We will not lay down our weapons just like other Iraqi resistance groups until all the occupied territories, especially the Holy Quds, are liberated," it said.
Anti-US sentiment has been growing in Iraq since last year's assassination of Abu Mahdi al-Muhandis, the deputy head of the Popular Mobilization Units, along with the region's legendary anti-terror commander General Qassem Soleimani in Baghdad.
They were targeted along with their companions on January 3, 2020, in a terrorist drone strike authorized by former US president Donald Trump near Baghdad International Airport.
Two days after the attack, Iraqi lawmakers approved a bill that requires the government to end the presence of all foreign military forces led by the US.