Syria
Two More Terrorist Commanders(?) Killed in Clashes with Syrian Army in Aleppo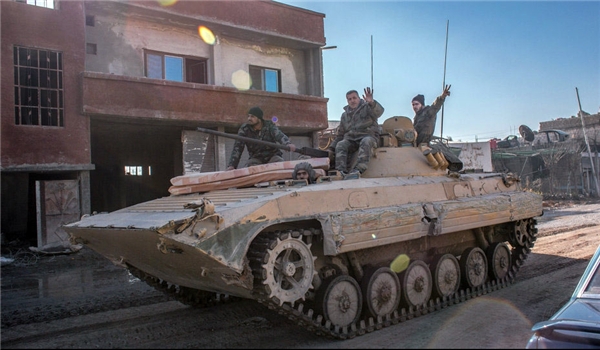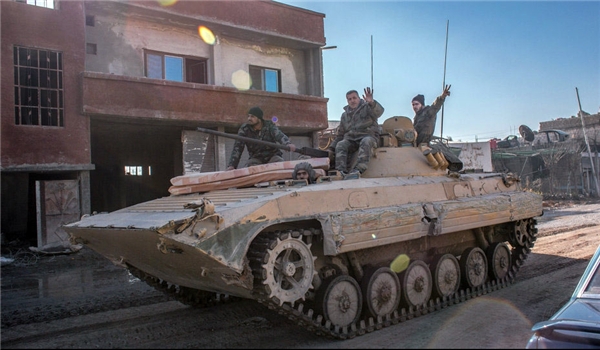 The Syrian Army and Hezbollah fighters, in a fresh round of clashes in Aleppo countryside on Tuesday, killed two senior commanders of Ahrar al-Sham terrorist group.
Ahmad Abu Khamis and Nawar al-Shahhoud were killed in joint operations of the Syrian army troops and the Lebanese Hezbollah fighters in Aleppo battlefields today.
Ahrar al-Sham also confirmed the death of its commanders.
On Monday, the Syrian Army alongside Hezbollah fighters conducted mop-up operations against the militants in two main neighborhoods of Aleppo city, and killed scores of them.
The army destroyed terrorists' positions in Khalidiya and Bani Zeid neighborhoods in Northeastern part of Aleppo.
A large group of terrorists were killed and injured during the operations. Militants' weapons and ammo were also destroyed.
Also on Monday, the Syrian Armed Forces alongside popular fighters stormed the positions of Takfiri terrorists and pinned them down in various districts of the Southern part of Aleppo city.
Pro-government forces engaged in heavy clashes with the militant groups in al-Sheikh Saeed, al-Sukari, al-Ansari and al-Sakhour districts, and killed or wounded scores of them.
The Syrian army's intensified operations in the Southern part of Aleppo blocked the exit path of the terrorists, making their retreat impossible.