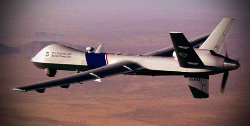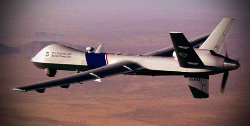 U.S. drone aircraft fired missiles into Pakistan's South Waziristan tribal region on Tuesday and killed five suspected militants and injured three others, sources in the region said.
Some sources claimed that foreigners were among those died and injured. There was no information about their nationality.
Locals said that two U.S. drone aircraft fired three missiles on a house at Landi Dug area, some 15 kilometers from Wana, the center of South Waziristan. The house was destroyed in the strike, they said.
The Taliban militants transferred the injured to unknown place.
Locals said the missiles were fired on the house of a local tribesman, Fazal Karam, who belongs to Mulla Nazir group of Taliban. They said the area is located near the Afghan border and there had been US strikes also in the past. Mulla Nazir has a peace deal with the Pakistani authorities.
There had been a lull in the U.S. drone strikes since the arrest of CIA contrator Raymond Davis in Lahore in January for the killing of two Pakistanis. Pakistani media had reported that the Davis mobile had some contacts in Waziristan tribal region.