Europe
Ukraine neo-Nazis at war with civilians: Putin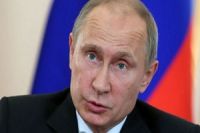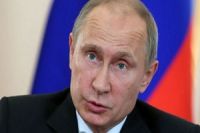 Russian President Vladimir Putin has accused "neo-Nazi forces" fighting against pro-Moscow activists in Ukraine of waging a war against civilians.
According to Press TV, in an interview with the Chinese media on Monday, Putin said the current tensions in Ukraine have been caused by attempts to alter the results of World War II.
He alsosaid, "Consequences (of such an alteration) would be utterly dangerous; this is evidenced by the present-day tragic events in Ukraine, the rampancy of neo-Nazi forces that unleashed a veritable terror against civilians."
Ukraine's acting President Oleksandr Turchynov launched military operations in southeastern Ukraine in mid-April in a bid to root out pro-Russia demonstrations.
According to figures from the United Nations, almost 130 people have so far been killed during clashes and operations by Ukrainian troops in the region.