Europe
Imam Ali Khamenei
Ukrainian wrestler standing on champion's podium with an image of Supreme Leader on his T-Shirt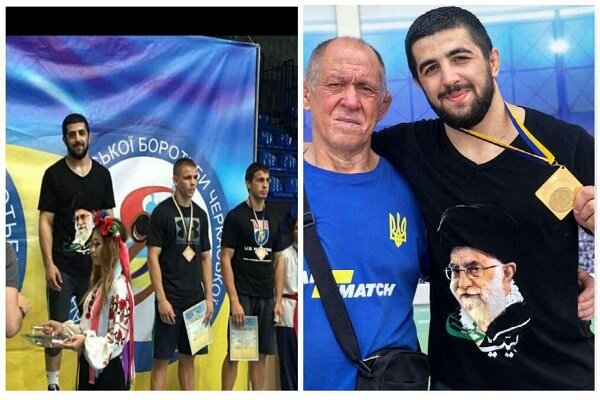 Iran's Basij (volunteer) Force Commander Brigadier General Gholamhossein Gheibparvar congratulated Ukrainian wrestler Almar Noor Aliyev on his sportive achievement, and appreciated Aliyev for standing on champion's podium with an image of Supreme Leader of the Islamic Revolution Ayatollah Seyed Ali Khamenei on his T-Shirt.
Brigadier General Gheibparvar, in a message issued on Tuesday, described the Ukrainian wrestler as an embodiment of a revolutionary youth of the age.
"Your deep sense of affection for the supreme position of Velayat (religious leadership) is rooted in your devote allegiance to your religion, and you are a role model for all freedom seekers and champions of the world," he highlighted.
Azeri-Ukrainian wrestler Almar Noor Aliyev, who won the first title of a wrestling competition in his country, went on the podium to receive the gold medal with an image of Ayatollah Khamenei on his T-shirt, in a show of admiration and dedication.
Aliyev had earlier managed to win bronze medal in 77kg category in 2018 U-23 Greco-Roman Wrestling Competition held in Europe.
He also became runner-up and won silver medal in 2017 World's Army Wrestling Championship.
Back in 2017, renowned American author, Gary Steven Corseri, described Ayatollah Khamenei's response to US threats and bullying as "dignified", adding, "We need more leaders in this world who will stress the importance of 'dignity' for the triumph of the human spirit."