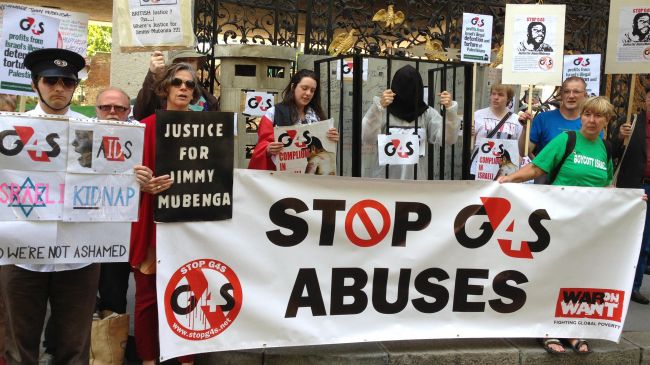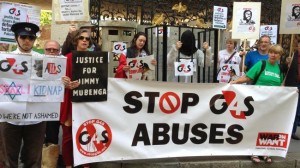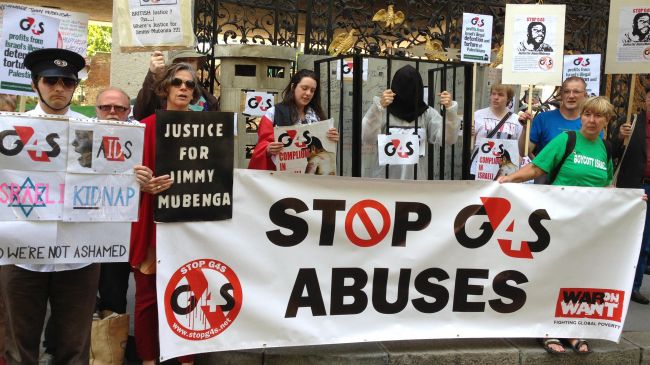 G4S security guards in Britain have violently removed more than a dozen protesting shareholders from the company's annual meeting.
Media reports said protesters were dragged out of the conference room in London on Thursday.
They added that the protesters had spoken out about the company's participation in Israel's occupation and providing Israeli prisons with security equipment.
"You are hurting me, you are hurting me," a female protester said as she was dragged from the meeting.
"We are here because G4S helps governments across the world to violate basic human rights," British media outlets quoted the female protester as saying, adding, "We want to remind you that the huge salaries your board earns and the dividends that your shareholders pocket are only possible because of the extreme human suffering that G4S inflicts."
G4S, which is a British multinational security services company, operates and maintains security systems at the Ofer prison in the occupied West Bank, and two other detention centers elsewhere in occupied Palestinian land.
Human rights organizations have documented systematic torture and ill-treatment of Palestinian prisoners, including child prisoners, held in solitary confinement.
Meanwhile, dozens of Palestinian hunger strikers in Israeli jails have been taken to hospitals as their health conditions have seriously deteriorated.
In 2012, over 1,500 Palestinian inmates staged a four-week hunger strike that ended after Tel Aviv agreed not to extend the jail terms of those in administrative detention.
Administrative detention is a sort of imprisonment without trial or charge that allows Israel to incarcerate Palestinians for up to six months. The detention order can be renewed for indefinite periods of time.
More than 5,000 Palestinians are reportedly being held in Israeli prisons, nearly 200 of them under administrative detention orders.