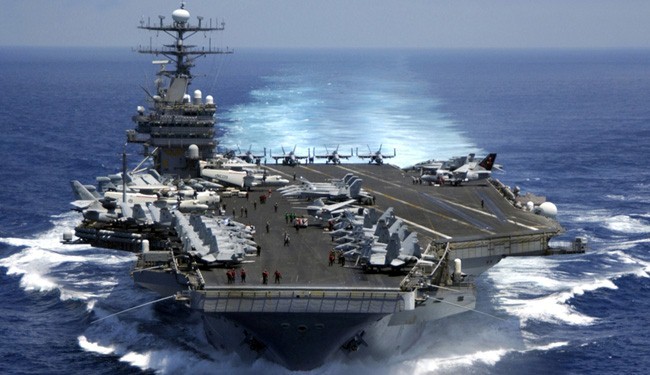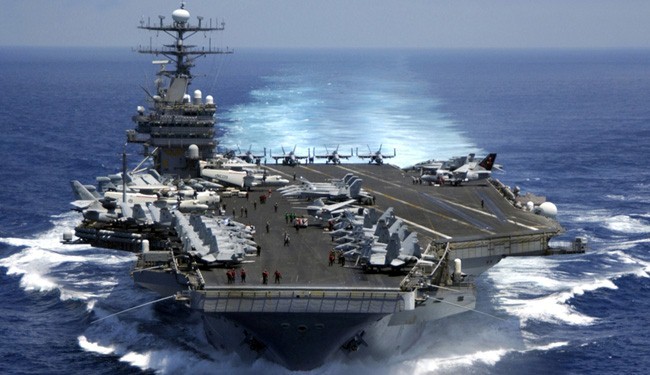 US aircraft carrier USS Nimitz has started moving westward towards the Red Sea to be part of a probable US military strike on Syria, defense officials told ABC News.
Last Wednesday, with the likelihood of a US military action against Syria increasing, the USS Nimitz and several destroyers in its strike group were kept in the Indian Ocean.
The carrier had just ended a months-long deployment to the Arabian Sea where its fighter aircraft had been providing air cover over Afghanistan.
Having been replaced by the USS Harry S Truman, the carrier was expected to soon begin the trip home to its homeport in Everett, Wash., when it received orders to linger in the area.
On Saturday, President Obama announced that he had decided upon military action against Syria, but that he would first seek authorization from Congress.
Defense officials confirmed that the Nimitz is heading west, but claimed that it has not been assigned to a specific mission, so the move is just "prudent positioning."
Should the Nimitz strike group receive the order to head to the Mediterranean moving towards the Red Sea would shorten the amount of time it could take to stage for a transit through the Suez Canal.
For now, US officials said any US military action against Syria will likely come in the form of Tomahawk cruise missiles fired from Navy destroyers currently stationed in the eastern Mediterranean.
There are now five U.S. destroyers in the waters of the eastern Mediterranean.
On Friday, the USS San Antonio, a Navy amphibious ship with several hundred Marines aboard, was ordered to remain in the eastern Mediterranean.