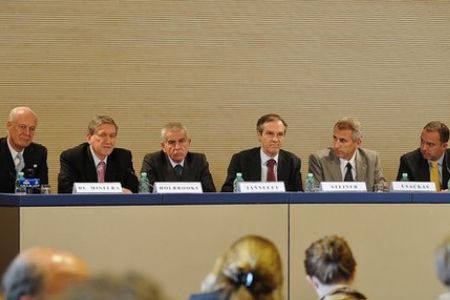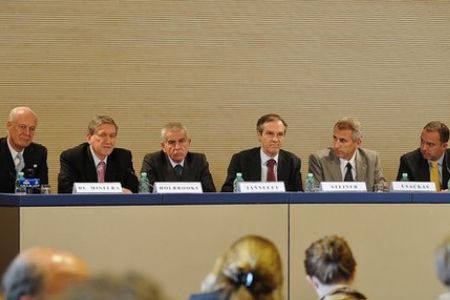 Following Iran's attendance in an international conference on Afghanistan, the US and other Western countries have admitted to Tehran's key role in the region.
"We recognize that Iran… has a role to play in the peaceful settlement of the situation in Afghanistan," US envoy for Afghanistan and Pakistan Richard Holbrooke said on the sidelines of Contact Group conference in Rome on Monday.
The international Contact Group, which now includes 44 countries concerned with Afghanistan and Pakistan, including 10 members of the Organization of the Islamic Countries, has been meeting since 2009.
The Iranian Foreign Ministry's Director-General for Western Asia affairs, Mohammad Ali Qanezadeh, arrived in Rome on Sunday to attend the conference as Tehran's special envoy.
"Iran is too important to be excluded," AFP quoted Italy's special representative to Afghanistan Massimo Iannucci as saying.
Iannucci referred to Tehran's "common interests" with other concerned parties such as drug trafficking and illegal immigration across the Iranian-Afghan border, adding that "Iran… is part of the solution to the problem."
"There's something which unites us. We don't want chaos in Afghanistan. Also the Iranians don't want a situation where the international community leaves Afghanistan and leaves behind chaos," German Ambassador to Afghanistan and Pakistan and the chairman of the contact group Michael Steiner said.
Earlier in September, Iran called for attention and support from the international community for its costly anti-narcotics efforts at the United Nations General Assembly.
Iranian officials believe that the presence of foreign forces in Afghanistan is the main reason behind the increasing rate of drug production in the country.
Afghanistan accounts for 90 percent of the world's illicit opium and heroin production, the UN drug monitoring body said in its 2010 report.
Iran has spent over USD 600 million in the last two years to dig canals, build barriers and install barbed wire to seal off areas of entry on its border with Afghanistan. Its efforts have led to the confiscation of nearly 370 tons of narcotics over the past six months.
The drug trade originating in Afghanistan has claimed the lives of more than 3,000 Iranian police officers over the past 30 years.